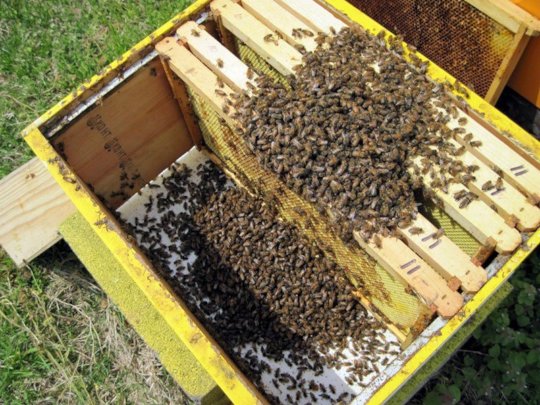 Those of you who read our reports probably remember that we not only provide business training to vulnerable Bulgarians, but with your help we also provide Incident Relief. Well, in May thanks to your support we were able to help some bee-keepers. Here is why. Starting as of end of April this year, Bulgarian bees suffered a massive killing by farmers spraying crops with pesticides. It started with beekeepers from North Bulgaria reporting a mass poisoning of bee families after spraying with banned substances on farmland in the area. "The treatment with forbidden pesticides continues in the last days, as a result of which the bees are poisoned," reported a beekeeper from the village of Bivolare. All bee hives have been affected and all flying bees have been killed. There are heart-breaking videos of bees dying and agricultural planes spraying. Beekeepers in the North East Bulgaria region complained of mass poisoning of bees and non-compliance by farmers with the rules for spraying crops.
As a result Beekeepers went on strike on April 5th in the city of Pleven. The main reason for the disaffection is the unregulated spraying of crops with pesticides and the lack of control. Over 5,000 bee families have been poisoned in the region. This year the problem with massive death among bees was in South Bulgaria and South-East Bulgaria as well.
THE GOVERNMENT
In all this tragic situation the Bulgarian government does nothing. Their statement is: There are regulations on how to spray with plant protection products, and those have to be followed. And they are right. So despite the legislations and norms for spraying crops, and although the problem of dying bees globally is extremely serious, there is no adequate response from the state in such cases. Since 2016 an Regulation has been implemented in Bulgaria, which regulates the measures for the protection of bees and bee colonies from poisoning and the ways of carrying out plant protection, disinfection and disinsection activities.
"As per documents everything is perfect, as many things in Bulgaria, but the question is what's going on in real life..." one of the protesters said.
Einstein has said that four years after bees disappear the whole humanity will disappear. We believe that God will protect us but at the same time we have a responsibility to keep our environment clean and balanced.
IMPACT ON OUR BENEFICIARIES
Our beneficiary Roger (not his real name) from North Bulgaria informed us about the extra care he takes to protect his bees, so they would not fly to the sprayed crops. Everyday, he feeds them with a little bit of sugar syrup, so they do not go to the poisoned areas. He is also applying some of the principles he learnt during the training, i.e. he is helping his fellow colleagues who have been affected and their bees have died.
Roger's statement is the same as the other's - the problem with beekeeping is indeed pesticides, and in particular the fact that the law is not respected. The grains are sprayed against pests and though the law is that they should not be sprayed in the light of the day, this is not the case. Roger shared with us that he has been a bee-keeper for over 20 years and he has not experienced anything like that before. Though his bees did not die (thanks God!) they had starved and developed too much hatching. From 70 bee hives he only managed to collect 50 kg. of honey which is not profitable at all.
WHAT DID YOU DO
Well, in order to help the people that we are working with, we decided that we will allow Roger to skip the monthly payment of his loan, thus his family will not have to struggle finding money for their monthly installment.
For another businessman, a widower, (on the picture) YOU helped by providing financial support to recover the remaining bee families. You donated $140 USD for him to buy extra food for whatever was left from his bees. This way, with extra food the families will recover much faster. He did not have any honey to collect in May and June, but the bee hives are now strong and collecting honey for the August harvest.
So we are glad that even on a small scale we are able to provide some disaster relief for these two fellows.
THANK YOU so much that you have brightened their months in this difficult situation!