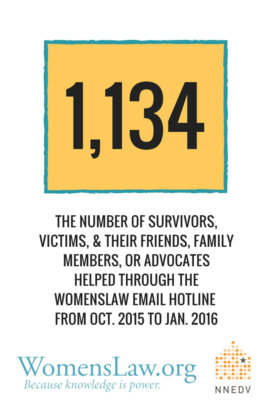 WomensLaw is the first and only free, legal resource for survivors of domestic & dating violence, sexual assault, and stalking that offers safety and legal information and resources in "plain language" in both English and Spanish. We are dedicated to empowering survivors and their advocates to make informed decisions about their options, safety, and legal remedies.
From February 1, 2015 to January 31, 2016, there were 1,510,716 people who accessed the life-saving information that is housed on WomensLaw.org. In the past four months (October 2015 to January 2016), we worked directly with 1,134 victims, survivors, and their friends, advocates, or family members through our Email Hotline. This unique hotline offers victims a direct line to ask a question of our attorneys and volunteers, who specialize in domestic violence and the law. We respond to every request as quickly as possible, but take time to respond thoughtfully and include individualized resources and information. We frequently correspond back and forth with the women and men who write in, and many are grateful for our assistance and support, as below:
"Thank you for your thoughtful and thorough information. I will share this with my daughter. The organization of your email and the links you provided made it easy to follow what you were saying and gave me plenty of resources. Thanks again!" -WomensLaw Email Hotline response
We answer questions and provide our expertise on a wide range of topics - including custody, divorce, relocation, and more. Here is one recent inquiry that we received on the Email Hotline, which demonstrates the need for legal information and resources for victims of abuse and harassment:
"What are the proper steps to file a harassment complaint or to get someone to stop contacting you? I have already blocked the person's cell phone number and all employment numbers they were calling me from but they continue to leave unwanted voicemails." -WomensLaw Email Hotline inquiry
We are constantly updating our website, making changes and additions to it daily. Our priority is to make sure that the legal information that we have is current with changes in the laws and to continue to add new information that would be useful for victims and survivors of abuse. Between October 2015 and January 2016, we have made several updates to WomensLaw.org. We updated the contact information for non-profit legal organizations, courthouse locations, and state and local programs in Washington and New York and translated them into Spanish. We also updated and translated the Washington, D.C. Civil Protection Order page and Custody page. We added a new housing law page in Maine and updated and added laws in several states…and these are just a handful of the changes and improvements that we made over the past 4 months!
Thank you for supporting WomensLaw and the National Network to End Domestic Violence. Stay in the loop! Sign up for occasional action alerts and updates from NNEDV at: NNEDV.org/signup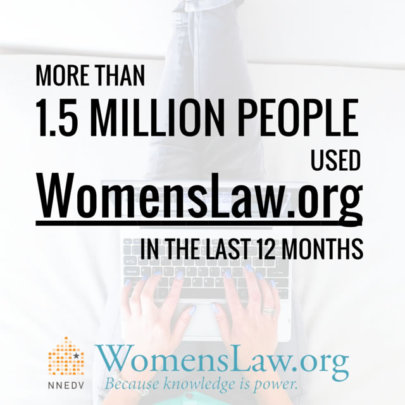 Links: