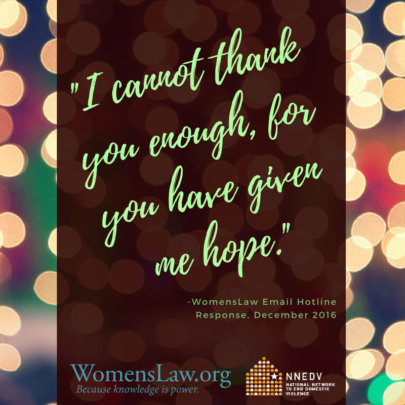 WomensLaw is the first and only free, legal resource for survivors of domestic & dating violence, sexual assault, and stalking that offers safety and legal information and resources in "plain language" in both English and Spanish. We are dedicated to empowering survivors and their advocates to make informed decisions about their options, safety, and legal remedies.
From November 1, 2016 to January 31, 2017, 337,683 people accessed the life-saving information that is housed on WomensLaw.org. In the past three months (November 2016 through January 2017), we worked directly with 786 victims, survivors, and their friends, advocates, or family members through our Email Hotline. This unique hotline offers victims a direct line to ask a question of our attorneys and volunteers, who specialize in domestic violence and the law. We respond to every request as quickly as possible, but take time to respond thoughtfully and include individualized resources and information. We frequently correspond back and forth with the women and men who write in, and many are grateful for our assistance and support, as below:
"Thank you very much. This information was very helpful and the way you presented the information was clear and precise. Thank you for taking the time to look into my case. I truly appreciate it." (WomensLaw Email Hotline response, December 2016)
And:
Thank you so much. I wasn't even aware that this may be a possibility. You have been very helpful. Thank you so much for your concern and getting back to me so quickly. You did certify what has to be done. Thank you so much for what you do! (WomensLaw Email Hotline response, December 2016)
We answer questions and provide our expertise on a wide range of topics - including custody, divorce, relocation, and more. Often times, victims or their loved ones are writing in to us to get some basic legal information about their situation when they cannot find legal representation. Although we do not provide legal advice, we can explain relevant laws that may help the victim to make an informed decision. Here is one recent inquiry that we received on the Email Hotline from a victim advocate, which demonstrates how the basic legal information we provide can help provide clarity about the law:
"Yes, Yes, Yes. Thank you for this information. We would have approached this situation completely wrong causing delays in getting useful help and extra unnecessary stress on the victim. You have done a very good thing. Your effort and dedication are greatly appreciated. You have been a positive force in helping an eight year old boy." (WomensLaw Email Hotline response, September 2016)
We are constantly updating our website, making changes and additions to it daily. Our priority is to make sure that the legal information that we have is current with changes in the laws and to continue to add new information that would be useful for victims and survivors of abuse. Between November 2016 and January 2017, we made several updates to WomensLaw.org.
We revised the information on our North Carolina State Gun Laws page to make it more clear and concise and to add more information about a felon in possession of a firearm. All changes were done in English and Spanish. Based on a new law that recently took effect, we added the question If my child was conceived from rape, can the offender get legal decision-making or parenting time? to our Arizona Custody page in Spanish and the English . We added an Impersonation page to our Technology Abuse section. We added an Idaho Protection Order Against Malicious Harassment, Stalking, and Telephone Harassment page. We translated into Spanish the following sections on our Virginia Know the Laws page: State Gun Laws, Housing Laws, Divorce, and Crimes. Look out for more translated sections coming soon! We created state-specific divorce sections in Alabama and Iowa. Based on an Email Hotline inquiry, we added the question If there is a custody order in place, can I relocate? to our Kentucky Custody page. We completely re-wrote the Wyoming Custody page, adding new questions and revising all of the other questions…and these are just a handful of the changes and improvements that we made over the past three months! See them all here on our What's New on this Site page: http://womenslaw.org/simple.php?sitemap_id=63
Thank you for supporting WomensLaw and the National Network to End Domestic Violence (NNEDV).
Stay in the loop! Sign up for occasional action alerts and updates from NNEDV at: NNEDV.org/signup