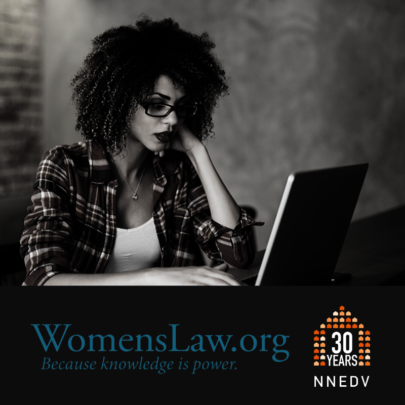 WomensLaw is the first and only free, legal resource for survivors of domestic & dating violence, sexual assault, and stalking that offers safety and legal information and resources in "plain language" in both English and Spanish. We are dedicated to empowering survivors and their advocates to make informed decisions about their options, safety, and legal remedies.
From February 1, 2020 to April 30, 2020, 466,121 people accessed the life-saving information that is housed on WomensLaw.org.
In the past three months (February 2020 through April 2020), we worked directly with 1,049 victims, survivors, and their friends, advocates, or family members through our Email Hotline. This unique hotline offers victims a direct line to ask a question of our attorneys and volunteers, who specialize in domestic violence and the law. We respond to every request as quickly as possible, but take time to respond thoughtfully and include individualized resources and information. We frequently correspond back and forth with the women and men who write in, and many are grateful for our assistance and support. We also hear from the advocates providing direct services to victims who use WomensLaw.org to support their clients. Some responses we have received over the Email Hotline are below:
Thank you guys so much; your website is a gold mine. Keep up the fantastic work for blue collared laymen academics like me to gain a glimmer of meaning in a world filled with legalese that isn't so legalese. If nothing else, I hope I stirred up some conversation for law students who may be reading this. Knowledge is power and electricians love power, but we still have to know how to harness and install it safely. That's the most important.
(WomensLaw Email Hotline, April 2020)
And:
Thank you for all of your help! I am so grateful that I was able to get free advice (scenarios) and resources. I was desperately looking for help and found another website that claimed to help but I had to pay or use the 7-day free trial. I hope that this resource stays available for women forever! I have a lawyer who is going to look into the appeal and who is going to help me with child custody.
(WomensLaw Email Hotline, February 2020)
We answer questions and provide our expertise on a wide range of topics - including custody, divorce, relocation, and more. Often, victims or their loved ones are writing in to us to get some basic legal information about their situation when they cannot find legal representation. Although we do not provide legal advice, we can explain relevant laws that may help the victim to make an informed decision.
It is especially rewarding when someone tells us that we explained the information and provided resources and are also one of the first people to make them feel heard and understood. Here is one such reply that we received on the Email Hotline:
"You are the first person who gives me complete and very useful information... I'm not the first woman to be scammed by this person, so my purpose it's more concerned with trying to prevent him from taking advantage of women. Thank you very much for your help. I really appreciate it."
(WomensLaw Email Hotline response, April 2020)
We are constantly updating our website (http://www.WomensLaw.org) – making changes and additions to it daily. Our priority is to make sure that the legal information that we have is current with changes in the laws and to continue to add new information that would be useful for victims and survivors of abuse. Between February 1, 2020 and April 30, 2020, we made hundreds of updates, such as:
.…and these are just a handful of the changes and improvements that we made over the past three months! See them all here on our What's New page: https://www.womenslaw.org/about/news
Thank you for supporting WomensLaw and the National Network to End Domestic Violence (NNEDV).
Stay in the loop! Sign up for occasional action alerts and updates from NNEDV at: NNEDV.org/signup