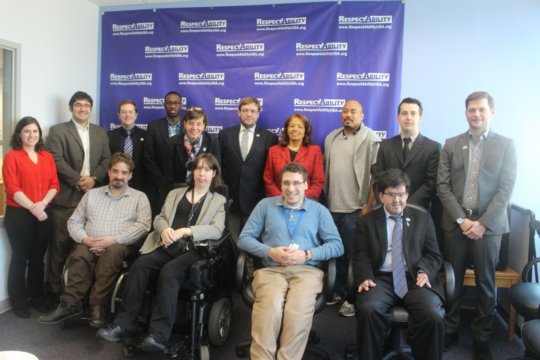 Empowering People with Disabilities – February 2017
By Jennifer Laszlo-Mizrahi - President

RespectAbility team focuses on Keys to Success
Dear Friends,
I cannot thank you enough for your earlier support! Because you have invested in us, I'd like to update you on key progress on our employment and stigma-busting work – transformative work that YOU helped make possible! Keep in mind that solving the issues of stigma and employment is not an overnight project. Still, major foundations are being laid. Since November, we have achieved the following:

• Identified and promoted best practices for inclusive employment to all 50 state teams working on state unified and combined plans for implementation of the Workforce Innovation and Opportunity Act (WIOA). Last summer, the federal government started to distribute $17 billion a year through WIOA to all 50 states to increase employment and job training opportunities. By educating government and workforce personnel working on employment creation programs about the disability issue, as well as effective ways to include people with disabilities (PwDs) in the workforce, we are expanding job opportunities for people with disabilities. To see our suggestions please go here: http://respectabilityusa.com/resources/for-policy-makers. We are pleased to report that the labor force participation rate for working-age people with disabilities has increased to 31 percent. Frankly, this is still a terrible number, but at least finally we are seeing consecutive months of employment growth for Americans with disabilities. This is a sign that the systems change efforts we are working on have started to have an effect. At the same time, however, much work still needs to be done. There is still a 45.5 percentage point gap in the labor force participation rates between people with and without disabilities. If we can expand our work, we can work to dramatically improve this situation.

• Raised public awareness of the abilities of people with disabilities (PwDs) through earned and paid media and constant promotion of positive images and stories that counter negative stereotypes. Our work includes identification of messaging and images that change perceptions, publication of articles and op-eds in national and local newspapers by well-known thought-leaders, PSA's and helping to champion A&E's reality show Born this Way, which won an Emmy Award for Outstanding Unstructured Reality Series. This is the first time ever that a series starring a cast with disabilities has won an Emmy Award. The show has been renewed for a third season, which also means that the series has started global syndication. RespectAbility has been involved in this show since the beginning, and a key part of it is to showcase people with disabilities who are in competitive integrated employment or who are becoming successful entrepreneurs.

• Started building Communities of Practice. Moving forward, we aim to decrease stigma by organizing Communities of Practice in New York City and Los Angeles. These communities are stakeholders who care about people with disabilities (PwDs) – workforce organizations, employers, philanthropists, the media, Hollywood, the faith community, the healthcare industry and more. Working together, communities will work towards supporting PwDs in their local areas by increasing employment opportunities and access to opportunity and by decreasing stigma in the workforce and entertainment industry. Our first gathering of NYC philanthropists happened last month, and we are convening LA philanthropists, workforce professionals and Hollywood professionals next week for the first meeting there.
• Gained traction in terms of encouraging major philanthropists to think about adding disability to their work. With our encouragement and involvement and that of others, Darren Walker, the president of the Ford Foundation, is making sweeping and very public changes to include disability in their work. The news made it into the Chronicle of Philanthropy. The breakthrough of the Ford Foundation could be a game changer for the disability community. It is one of the first major anti-poverty foundations to think about disability. Excitingly, we received support from the Ford Foundation for our National Leadership Program. With their support, we have paid fellows and a new fellowship director!
We are hard at work continuing and expanding these projects. However, it is worth noting that RespectAbility still is hampered by the fact that we are understaffed and under-resourced. We are eagerly reaching out to make new relationships with potential funders. We are deeply grateful for your earlier investment in our work. Please email me at JenniferM@RespectAbilityUSA.org with any questions or comments that you may have. Thanks for your investment in our work – and for the other amazing work you are doing on so many fronts!



• Check us out RespectAbility!