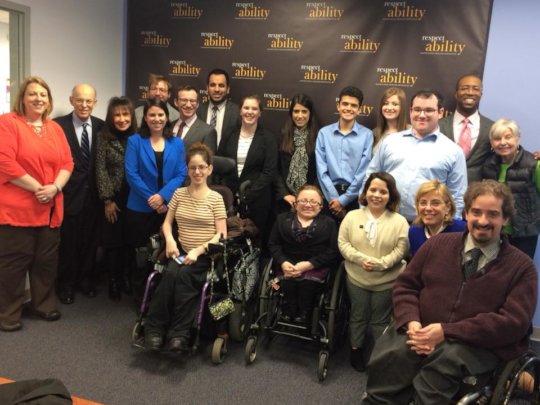 Dear Friends,

I cannot thank you enough for your earlier support! I'd like to update you on key progress for people with disabilities that YOU helped make possible! Keep in mind that fighting stigmas and advancing opportunities is not an overnight project. Still, major foundations are being laid. Since November we have achieved the following:

Continued building Community of Practice in Long Beach. Our National Employment Program consists of Communities of Practice for local stakeholders to work collaboratively on improving education and employment rates for people with disabilities. The Long Beach Community Foundation provided seed funding to Respectability to work in California, and we are connecting and partnering with local leaders there. We have compelling and credible data on the number of working-age people with disabilities, employment participation rates, high school graduation rates, and racial disparities among people with disabilities. We identified how many job training programs exist in the community and if any of them are placing and retaining people with disabilities in competitive employment. We identified the employers and educate them about the value to a company's bottom line of employing qualified, conscientious workers with disabilities. We also address barriers to employment for qualified people with disabilities: accessibility, reasonable accommodations, mentoring, and transportation. When gathering key local leaders, employers, government agencies, local workforce boards, vocational rehabilitation services, and job training programs, we might bring stakeholders together who have never worked together before. We recommend best practice employment programs such as Project Search and Bridges to Work, and we bring in experts to teach a community how to expand school-to-work transition programs and entrepreneurship opportunities for people with disabilities.
The intermediary goal is to create strategic alliances and increase the number of community champions engaged in disabilities employment. We prepare for each community toolkits and resource guides, convene press conferences, and events which can drive progress. Success is defined not only as cooperation among stakeholders, strategic alliances, and increased public awareness but an increase in the number of new minimum-wage (and above) jobs for people with disabilities over time in that community. Our Long Beach resource guide is very well-received in the community, and we plan on expanding the geographic scope to cover all of Los Angeles County.
The Successful Implementation of the Workforce Innovation and Opportunity Act (WIOA) WIOA was passed in 2014. Now states can invest in programs that have been proven to work. Another new law, Section 503, has an aspirational goal for federal contractors to have at least 7% of their workforce be people with disabilities. Indeed, a new study shows that only 12% of employers include people with disabilities in their diversity programs. Additionally, some cities and employers have no idea how to recruit, train, accommodate, and retain employees with disabilities. The incentive for stakeholders from other cities to cooperate with RespectAbility is simple: if the states and cities do not adopt effective workforce programs for people with disabilities, they risk losing millions in federal funding, employers miss out on key talent, and people with disabilities are denied the opportunity to achieve a better future.
Raised public awareness of the abilities of people with disabilities through earned and paid media and constant promotion of positive images and stories that counter negative stereotypes. Diversity in Hollywood should include disability. Our stigma reduction program is a media campaign to raise public awareness of the ABILITIES of people with disabilities through the promotion of positive images and stories on television, in films and the media via our #RespectTheAbility campaign. While one in five Americans has a disability, fewer than 2% of scripted television characters (15 in total) have disabilities. Actors with disabilities do not play most of these characters, and diversity is missing. We deliver compelling data and positive stories to directors, producers, casting agents, show runners, media journalists, and studio heads. Indeed, we have had fruitful conversations with these stakeholders, and we are already seeing more characters with disabilities on screen. Success is defined by an increase in the number of positive media representations of people with disabilities and an increase in the number of new jobs for people with disabilities in front and behind the Hollywood cameras. RespectAbility also writes and publishes success stories on employers who have hired people with disabilities. RespectAbility also wants to change the limited employment of people with disabilities in Hollywood movies and in other media.
Expansion of our National Leadership Program to bring in more talented young leaders into the disability space. Our National Leadership Program is a semester-long fellowship that prepares college and graduate students and recent graduates to become future leaders and advocate on behalf of people with disabilities. The Fellows are taught development, policy and practices, strategic communications including social media campaigns, and effective writing strategies. The Program has high-level executive coaching, and by the second week of the program, National Leadership Fellows are preparing their first press releases, attending conferences on Capitol Hill, and writing Letters of Inquiry and PowerPoint decks to major stakeholders. We have already trained 120 Fellows since 2013. More than half of the Fellows self-disclose as having a disability. Success for our Fellows is defined as finding full-time employment or attending graduate school, and 92% of them have achieved this goal. Their success reflects RespectAbility's commitment to expanding jobs for people with multiple disabilities. Our Fellows have secured jobs at such diverse places as AmeriCorps; the National Disability Institute; Easter Seals; the White House; the World Bank; the Departments of Treasury, Education and Defense; and the Veterans Administration. We had 10 Fellows in Fall 2017, and we currently have 12 spring Fellows.
Gained traction in terms of encouraging major philanthropists to think about adding disability to their work. This education and fundraising program is designed to educate other philanthropists, especially major foundations, about disabilities employment and to increase funding to disabilities organizations. We identify foundations that want to alleviate poverty, fund workforce programs, address racial disparities and injustices, focus on education attainment rates, and reform the justice system. If these funders have not yet added the disability lens to their philanthropy, we meet with them and offer free tools and training. We educate funders about the correlation between poverty and disabilities, between low employment participation rates and poverty, and about intersectionality (double discrimination) and disability. We help foundations develop their own inclusive hiring practices and make their websites accessible to those with hearing and vision impairments. By convincing other foundations to support the disabilities field overall, we strengthen the base of support for changes in policy, practices, and behavior. The goal is to attract more funding to all disabilities nonprofits—not only RespectAbility. Success is defined by the number of foundations that never funded disabilities or never had plans for inclusion practices within the foundation but now invest in disability workforce issues and practice internal inclusion (hiring staff with disabilities). Because of our efforts and those of others, the Ford Foundation now funds in the disabilities field as a part of their already existing portfolio. We are developing partnerships with various other large foundations as well.
We are hard at work continuing and expanding our projects. However, it is worth noting that RespectAbility still is hampered by the fact that we are understaffed and under-resourced. We are eagerly reaching out to make new relationships with potential funders. We are deeply grateful for your earlier investment in our work. Please email me at jenniferm@respectability.org with any questions or comments that you may have. Thanks for your investment in our work – and for the other amazing work you are doing on so many fronts!
I hope that you will continue to invest in the ground-breaking work. Thank you for joining with us in creating a better future for people with disabilities!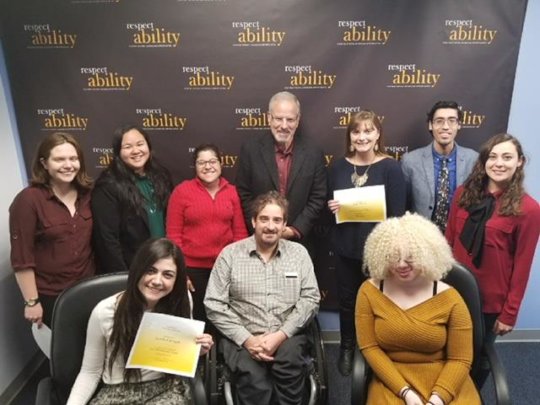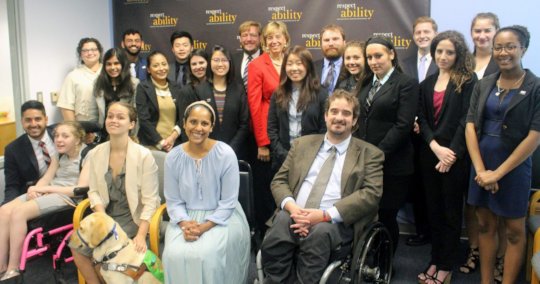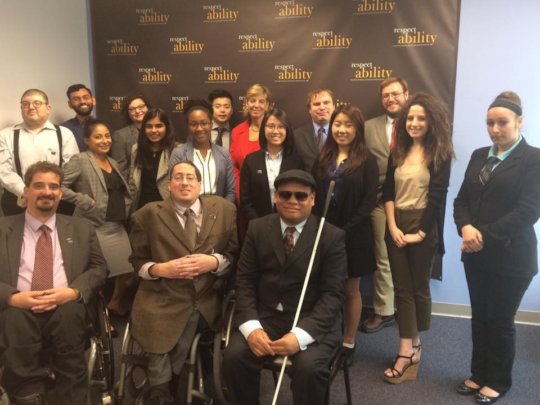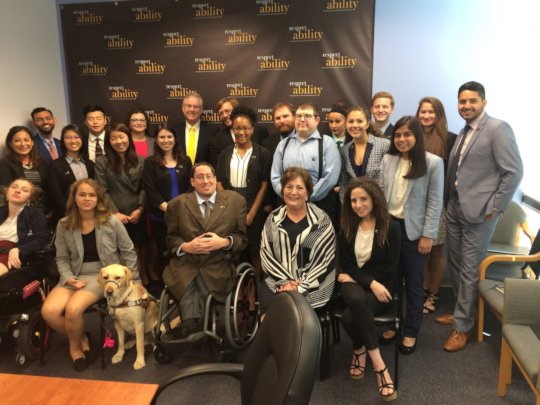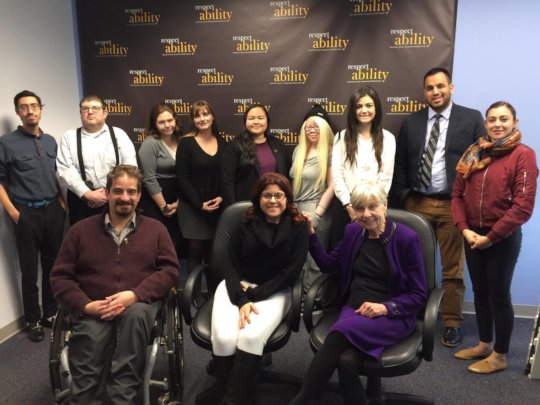 Links: