We are so proud and delighted to hear stories of the women in our villages who are doing remarkably well, and creating a future for themselves and their families. Pictured above is Hawa, 32 years old, married to a farmer, with three of her five young children. Hawa is from Jafaina Village, in the south of North Darfur, adopted by Kids for Kids only last year in 2018. In September 2018 Hawa received five goats and one local breed donkey from the Animal Loan Committee, along with basic essentials including two blankets and two mosquito nets to protect and keep her family warm at night. Kids for Kids also provided vaccines for the animals, anthelmintic and worming treatments: preventing disease is essential to enable Hawa to build up her flock.
After the rainy season last year, Hawa's goats produced two kids and this year they produced five more kids! After just one year, Hawa now has 12 goats in total – and four of her nanny goats are pregnant right now! She has done very well in keeping her promise to take good care of her animals – the same promise that all Kids for Kids beneficiaries make before receiving assistance from the Animal Loan Committee. Hawa has made sure that the goats have access to an area of shade from the hot desert sun at all times. She collected bits of trees, grass, and dry fodder to create a Tabana near her home where the goats can graze. The goats have provided milk that she is able to feed her children - and even more, so that she has been learning to make yoghurt that she can sell in the El Fasher and Turra Markets nearby.
The fact that after only one year Hawa does not have to worry as much about feeding her children, thanks to her Kids for Kids goats, is a huge success! Just five goats and one year have enabled a young mother of five to see a future for her family. This is the sort of story that melts our hearts - and we can't wait to see what is next for Hawa!
Stay tuned for more updates on Hawa and her family in our coming 2020 reports. In the meantime, we wish you a wonderful end to 2019 and a fantastic start to the new year! We would be thrilled if you would consider becoming a regular monthly donor this year - a sure way to make a huge difference this new year.
With a big thanks for your continuous support to our life changing projects,
The Kids for Kids Team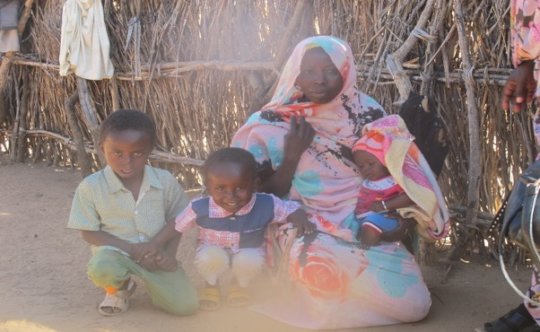 We are pretty certain that your access is much easier than what is faced by many families in Darfur.
News from the Third Inception Meeting in our recently adopted village, Abu Sinait A, has just arrived and the case studies are heart breaking. Over the past years this village has been horribly affected by violence, leaving the residents that remain even poorer (if that is possible) than many of our other villages.
Pictured above is Fatima, whose family has no beds. Along with her three little ones all under the age of five, she sleeps directly on the sand on the floor of her small hut. The family owns very few household items and no jerry cans for water. Having not even a single jerry can is one of the biggest signs that a village is in the most horrible condition of poverty that you could imagine. Fatima has been borrowing jerry cans from her neighbor for as long as she can recall. Borrowing jerry cans means the water collected must also be shared with her neighbor, which is only right, but means even more trips to collect water as it runs out so much faster.
But this year, with your help, we were able to adopt Abu Sinait A, and Fatima's family has been chosen by her village as one of the first beneficiary families. Kids for Kids adopting this village actually allowed for Fatima to return to her village, as the family had been living in two different camps because there was no way they could stay in the village with what little they had and no prospects to speak of. Now Fatima can look towards the future - in her own home.
Please can you provide Fatima and many other families like hers with jerry cans to carry water home? When you turn on your water at home, please think of them.
What a Tuesday!
We do not have enough words to thank you for your immense generosity over last week's Giving Tuesday. What we'd like to do however is give you the facts, so you can really understand the impact you've made.
Last week on Tuesday December 3rd Kids for Kids received donations via GlobalGiving from 105 different people! Over all our projects together, you donated a massive $18,500 (roughly £14,184) to Kids for Kids. GlobalGiving added $5,398 (roughly £4,139) to that total, in their campaign to proportionally match the funds our projects raised in comparison with all other projects on the site.
All together, this means $23,898 (roughly £18,392) for Kids for Kids - from one single day of fundraising! With the matching from our anonymous donor of $5,000, that brings our total to $28,898 (just over £22,000!)
We were so proud of our Goats and Donkeys project as it came in 13th place out of all the projects on GlobalGiving because of the amount of funds you donated! And it is such a testament to how small donations add up. Everyone who donated played a part in this achievement and we could not be more grateful.
We want to wish you a most wonderful holiday season with friends and family, and remember if you're still in need of a few gifts we make a mean(ingful) gift certificate for anything you donate! Just get in touch. GlobalGiving also lets you print out a Certificate too so you can donate on behalf of your loved one right here.
Until 2020,
The Kids for Kids Team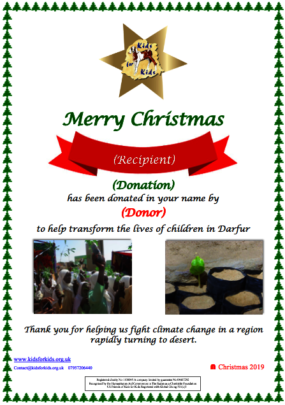 WARNING: Javascript is currently disabled or is not available in your browser. GlobalGiving makes extensive use of Javascript and will not function properly with Javascript disabled.
Please enable Javascript
and refresh this page.