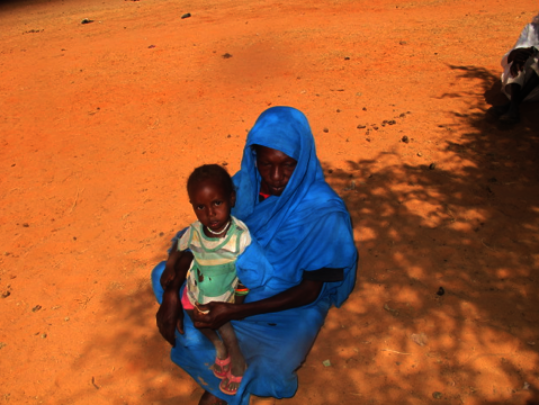 2018 has us worried beyond words for families in Darfur. The harvest has failed in many villages, leaving communities with very little food and constant fear of how they will feed their children in the coming months. Combined with years of continued violence in Darfur this has caused people's coping mechanisms to completely collapse. The creation of South Sudan has brought vast inflation to Sudan - 36%. It is even higher in Darfur. £25 (about $35) is the average annual income in Darfur and due to last month's de-valuation of the Sudanese Pound, that is now worth only £9 (about $13) for the whole year. What can you buy with £9? Virtually nothing. Families have nothing to fall back on. A Donkey, essential in Darfur because there are no roads, now costs 5 to 6 years of a family's income. To lose a donkey is absolutely devastating.
Now, in many villages in Darfur, the harvest has only yielded 10% of what was planted. If crops fail there is no food. Those families who do not have animals will starve, yet the international community is silent. Patricia Parker MBE, Kids for Kids Founder and CEO, says "I spoke to two women who said they had planted 20 kilos of seed. They had saved every grain and planted each carefully by hand. They said they were going to be lucky to get 10 kilos out of the land. It would have been better to have eaten it, not planted it. Appalling."
How would you feel if you entered the new year wondering how you were possibly going to feed your children? This is a constant thought in Darfur, a desert at the forefront of global warming. What's even worse is that Famine Disaster Relief has declared a state of 'crisis' across Darfur, yet no one has reacted. Not a single country or aid agency has reached out as yet to offer assistance to families facing starvation in 2018. Even though Kids for Kids is not an emergency aid agency, we cannot stand by. The failed harvest means we have to provide millet to families. But we also cannot forget their animals. They too need help so we are appealing for funds to provide seed for families and fodder for the animals. In times of desperate need, like this, it is essential for us to have the resources to help.
Please donate now so we can act before it is too late. Patricia Parker explains: "We cannot let these families down. If you have nothing, and you have given hope, that is absolutely the worst crime. We need to be able to plan ahead to prevent disasters. People who support us regularly, however little, make an enormous difference. To give hope, and then give help, is valued beyond anything when you have so little."

Please tell your friends and family about our work. Darfur is not in the news, no one has responded to the declaration of 'crisis' in the villages, and we do not advertise. It is up to Kids for Kids to provide emergency aid, in addition to our sustainable projects. Please can you help us raise more funds to help families facing great deprivation now and in the year ahead?