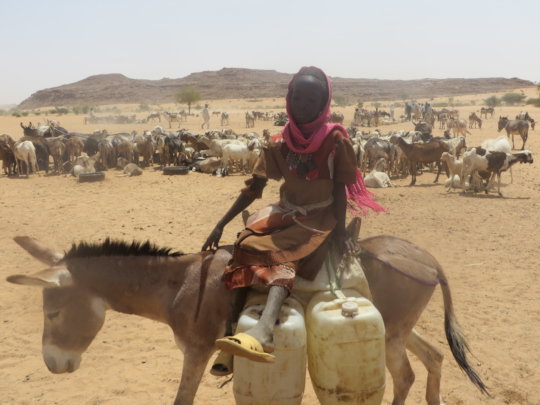 Kids for Kids turns 20 on the 8th March, and we are so humbled by the number of goats and donkeys that you helped to provide, that have been supporting thousands of families across the years. Not just from the initial goat loan but from the subsequent rotations after two years, in which 5 goats from the original flock are given to another family in need.
However, the need for goats and donkeys is greater than ever in Darfur. In the grip of an economic crisis, inflation is still increasing in Sudan - at last count, it was over 250%. As many families are surviving on just a single meal a day malnutrition and starvation are a very real threat.
By providing 5 nanny goats to a family a mother is able to feed her children the milk, turning their health around. Mothers are able to earn a living by selling excess milk, this income can be used to send her children to school. A donkey given to a family helps to lighten the burden of water collection which usually falls to women and children - allowing a child time to gain an education. If a donkey dies there is no chance of a family affording to replace it. Donkeys are the only means of transport. If you don't have a donkey, the only alternative is to walk, often many miles across the desert for every drop of water.
The difference these animals can make in someone's life is extraordinary!
Because conditions in Darfur were rapidly deteriorating, in 2020 we made the decision to adopt eight, instead of five, communities. We were only able to do this because of the generosity of supporters like you. Because of you, last year 270 families received a donkey to help carry water, take children to school, allow mothers and fathers to provide for their children.
These same families were given 1,375 nanny goats to give hungry children nutritious milk and 90 billy goats to help grow the flocks and livelihoods.
We are so very grateful for your help during these trying times, but whilst we should be celebrating good news like this, it is also a reminder that there are so many more families who deserve the same opportunity to determine their own future.
For the people of Darfur, a goat can mean the difference between life or death, a goat can be a beacon of hope and the possibility of a brighter future.
Every parent should be able to sleep at night knowing her children are well-fed and healthy - will you help us provide more goats and donkeys to more families in need?