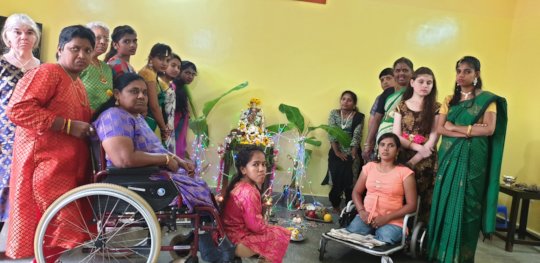 Dear Benefactor.
Greetings from Margadarshi!!
We are happy to inform that our students' class tests got over in August and they have achieved good marks in most of the subjects, one of our students, Rakshitha, doing her 1st PU at St. Anne's college was the topper in her class .
Last quarter was a joyous one, as it is the festival season in India, Dussehra being one of it. With lot of enthusiasm Dussehra was celebrated. The planning and preparation for the Dussehra celebration started a week before. Different teams were formed, comprising of 5 girls in each group and each group was assigned a task, like conducting quiz, to sing Bhajans, Performing puja , overall decorations, etc.,..
The celebrations started with Ekta sharing the story and importance behind the Dussehra festival. Few girls organised a question & answer game on Ramayana, where they gave prizes to the other girls with correct answer. With songs and dance everyone enjoyed the serene atmosphere. Diyas, which are small oil lamps made from clay were lit, that were placed around, sight of which was festive, and all girls took part in it with all their enthusiasm.
Culmination of any festival was food, here too delicious lunch of Pulao, fruits, salads and sweets was prepared and all the girls in their traditional dresses, enjoyed it to their hilt.
We could see their happiness which came from their hearts and as their Well Wisher; overall credit goes to YOU, for that smile on their faces.