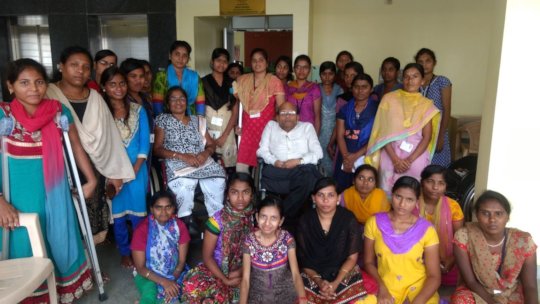 Dear Benefactor of Margadarshi!
Greetings and Wish You A Very happy & prosperous 2018!!!
We are pleased to inform that the second batch of job readiness programme was started with 32 trainees and successfully completed by 31st October 2017.
Session were conducted on various aspects such as Disability and Disability Management, Basic Literacy, Basic Computer, Basic Gardening, Basic Mathematics, Effective language conversation, Social skills, Rights of person with disability, How to control Emotional matters, Money management, Leadership and Women empowerment, Career guidance, Attitude and stress management, Sexual and reproductive health, Communication skill, Group activities and group discussions, Decision making and Craft work.
Four volunteers came to teach Basic Literacy, Yoga and Meditation classes. These sessions were very helpful for all the trainees. Also six resource persons took sessions based on their expertise. They are Dr.Geetha, Mr. Sridhar, Mr.Nagraj, Mr. Ajay, Mr.Govinda Naidu, Dr.Sangeetha.
Dr.Geetha is a gynaecologist, who thought the trainees about the Sexual and reproductive health. Mr. Sridhar is retried professor had a very productive session in which he recognised the individual talents of trainees by group activities and group discussions. Mr.Nagraj was a trainee in Margadarshi and is now very successful in his life. He had a session about Goal formation and Goal setting; his experience was very useful for the trainees. Mr. Ajay is a businessman in the USA conducted a session on Self-motivation. Mr.Govinda Naidu is an Ex defence person who conducted a session on Interpersonal skills. Dr.Sangeetha, who is a professor, had a session on how to create self-employment.
Apart from this, trainees actually participated in the JBN garden customer conversation, craft work, jewellery making, painting, drawing and mehandi classes.
Three wheelchairs were provided for the benefit of the trainees. Also 7 trainees were provided with aids and appliances such as Clutches, Sandals, and Callipers.
All trainees travelled in Bengaluru Metro. They also visited to Ulsoor Someshwara temple and Horticulture training centre JBN and watched a movie in Gopalan Cinemas, Rajarajeshwarinagar as a part of our training programme.
Certificate awarding ceremony was conducted on 2nd of November 2017.
Among 32, currently 12 trainees are connected to BPO training, 7 trainees are in Retail training, 4 are in Hospitality training, 3 are connected to Ability and Disability, 3 are continuing their education and 2 are self-employed.
We thank you for joining hands with us for the Smile on each girls's face at our Home.