As we reported five days ago on the ISCP Facebook page and GlobalGiving reports,we need to raise 5,000 US$ for slow loris rehabilitation on the Indonesian island of Sumatra.
We still only have one non-permanent rehabilitation cage, which is on land belonging to a friend of the ISCP in the village of Sikeben, in the Sibolangit region of North Sumatra.
The ISCP team has been working in collaboration with the Natural Resources Conservation Agency (BKSDA), the SCORPION wildlife trade monitoring group, and the Sumatran Orangutan Conservation Programme (SOCP) to rescue and rehabilitate endangered wildlife.
On January 6 this year, the ISCP team went tothe Bukit Lawang area with two BKSDA officers to rescue slow lorises and a team from Scorpion and the SOCP, accompanied by three BKSDA officers, went to the village of Patumbak to rescue a baby orangutan.The publishing already available from Mongabay Indonesia : http://www.mongabay.co.id/2017/01/07/ketika-warga-serahkan-satwa-langka-dari-anak-orangutan-sakit-sampai-kukang/
And for more update info you can check on ISCP FB Pate at: https://www.facebook.com/iscp.original/
In our mission on January 6, we rescued four slow lorises. This was after receiving a report on January 4 from a local colleague in the village of Timbangjaya, in the Bahorok region, which is close to the Bukit Lawang tourism area.
The owner of the slow lorises also had two Asian small-clawed otters in captivity.
The four slow lorises had already been in captivity for two years and we found them in an awful condition. The animals were suffering from serious malnutrition.
After rescuing the four slow lorises and two otters, we brought the slow lorises to the ISCP centre, which is serving as a temporary home for rescued animals while we work to raise funds to lease land on which we can build a permanent slow loris rehabilitation centre in Sibolangit.
Given that we still have only one non-permanent rehabilitation cage, we decided, in collaboration with the BKSDA, to treat and rehabilitate two of the slow lorises and send two of them to the SOCP for rehabilitation and eventual release.
The BKSDA decided to transfer the two otters to Medan zoo that honestly ISCP not agree for that.
Please support us in our work to rescue and rehabilitate slow lorises and donate to the ISCP via the followinglink to the GlobalGiving crowdfunding platform: https://www.globalgiving.org/projects/support-building-slow-loris-rehabilitation-cages/
We would like thanks to SCORPION, the SOCP, the BKSDA,for their join rescue work on January 6, and Marcel Stawinoga from the Dortmund Zoo.
We would like to thank you also your continuing support donated until reach our crowdfunding target.
Your sincerly and God bless you all
RUDIANTO.SEMBIRING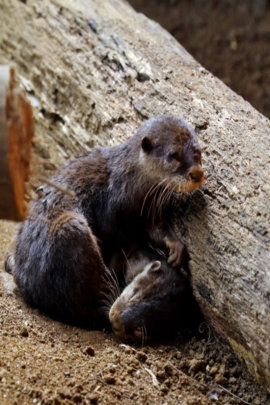 Links: