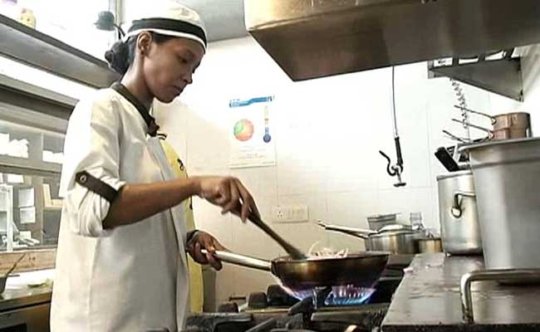 Lily was born in a south Delhi slum to an Assamese family; they were four siblings - an older brother and sister and a little brother. She described her father as a local healer.
In a rapid series of tragedies, Lily lost her father, followed by the mother a month later of tuberculosis. Her sister committed suicide soon after. The ground had fallen under her feet, taking any sense of family and community that she'd known.
At the age of 10, she ended up on the streets, working as a rag picker. Very quickly, she learnt how protectors become predators. In a home where they slept many nights, Lily and her companions were often abused by the owner's sons. To protect herself she'd find a quiet clearing among the trash and build a wall around her with cardboard sheets. Inside, she felt no one could find her. She felt safe in her ragtag fortress.
Lily, 14, discovered that she had an aunt in Delhi, who lovingly took her home for Eid. A month went by during which she was treated like their own daughter, she said.
Then, things changed. She was forced to drop out of school and work at a shoe factory. She was often beaten. And in an appalling but all too familiar turn, the aunt's son allegedly raped her. Again, she ran away and another fortunate meeting finally led her to Kilkari Rainbow Home.
For all the brutality she had endured from those that she trusted, Lily wanted to make her own life. Her way out was food; she remembered her father standing over the large kadhai's at the wedding feasts for the community.
A skill development agency contacted by the Kilkari Rainbow Home helped place Lily with Tres restaurant. They offered to take her on. Two years later, she rose from cooking staff meals to the rank of a commis or a junior chef at the restaurant.
"I'm a commis 2. There's commis 3 and then you become a chef," she said, her eyes glowing expectantly. Her favourite dish? She thought for a minute. "Mushroom risotto."
Links: