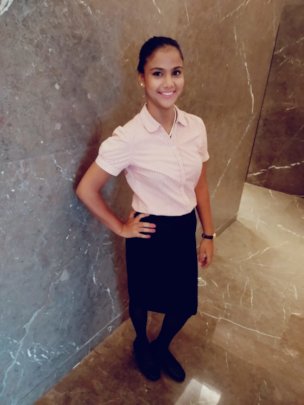 Dear Reader
Greetings of the day!
Udaan - taking flight program of Rainbow Homes Program which entails the Futures (16-23 aged) group of children aka the young adults, focuses on the efforts to prepare the reintegrated street children in the society. Special interventions like career counselling, job placement programs, part-time job sponsoring/resourcing, group living, management courses to make better of their living expenses and finding a suitable earning are what the young adults learn through.
We require all-time assistance to resource for these interventions which make sure that even after leaving the residential care homes, the child is not left without any plan or follow up and can earn his/her own living on their terms. This time around on the occasion of the International Day of the Girl Child, we bring you three impactful stories of girls, who are an inspiration of their friends, family and society.
Teresa joined Rainbow Homes in the year of 2007 December. her father fell seriously ill, leaving him paralyzed and the family in complete distress. This resulted in her mother having to work, going out in the mornings and returning late in the evenings, and since there was no one to take care of her father, it affected Teresa badly. She left the residential care of Rainbow home and became a day boarder. She took over the responsibility of nursing and caring for her father day and night while she being associated as Rainbow girl she continued her day schooling with Loreto day school. Her hardworking attitude and dedication towards her studies toppled with a number of household chores and caring for her father brought out good results when she appeared for her ISC (Indian School Certificate) exam and scored 73.7%. With an increased motivation and dedication she is now pursuing a Hotel Management/Diploma course from Bengal Nalanda Group and has transited from our home and is staying in a hostel. We wish her all the best in her future endeavours, and all her fellow rainbow girls and younger mates in the rainbow homes look up to her now, appreciating her stance in life.
Similarly, Taniya, a fellow Loreto Rainbow Girl, hailing from Kolkata appeared for the H.S. (Higher Secondary) Class XII Board Exams in 2019. She secured 82 %. Presently she is doing her BHM 1st year. She was admitted in the Rainbows in ~ in the month of April 2010 in class IV after her father's death. She was brought here by a Loreto staff. She has a brother and her mother is a cook. Apart from being a brilliant scorer in academics she also has talents in creative writing which won her many competitions. She also represented her school in State Level in Throwball, got prizes in drawing, talent hunt runners up. Presently she is getting a scholarship from Cognizant for her higher education. When asked about her achievements, she proudly says, " since my childhood I wanted to do everything, learn everything. Who says you can excel in only one thing? I love having to do many things in life. And sitting idle is something I try to avoid. It gives you bad memories and makes you overthink". With her level of concentration and persistence, she hopes to achieve much more out of life.
Flying high in the clouds is a head start for Tammana (meaning wish) who achieved her life long dream of becoming a flight attendant by getting selected in Indigo Airlines, as cabin crew. Hailing from Loreto Rainbow Homes, in her futures workshop Udaan when she was 16 years old, she shared this dream with her peers and teachers with such passion on how she always saw the planes soaring high in the sky, and what it would feel like to be in the air all the time? Tamanna is staying with Loreto Rainbow Bowbazar since 2016, passed her class 12 NIOS exam this year (2019) with 64% marks. She started as a day scholar as she lived with her mother alone and they both needed each other. She continued her studies with NIOS (National Institute of Open Schooling) board and scored 64 %. With all the courage and faith on herself, she passed all the rounds of interview and is ready to fly high as she dreamt. She will be joining from 1st November 2019.
What we are absolutely proud of are the different lives these girls lived and the circumstances they faced in life, and even after all the obstacles, they dream, they thrive to have their own place in the world. All they need is your support and helping us impact many more lives of the girls who dare to dream.
This international day of the Girl Child let us pledge to be a stepping stone to their success, to their wild, untamed unstoppable and unscripted adventures of life!