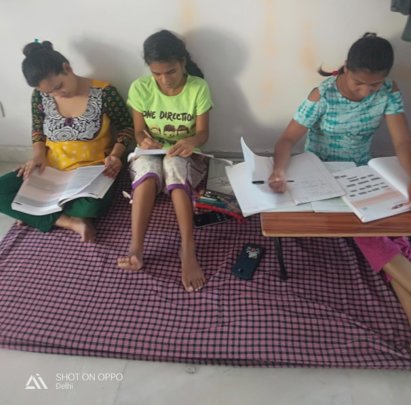 Dear reader
Hope you're safe and sound in these turbulent times.
The past months that brought the world to a complete standstill, it shut down people's lives completely. Businesses, shops, livelihoods, this virus affected over 28.6 million lives to date. In Rainbow Homes & Sneh Ghars and amongst the group living young adults, we tried to do our best in ensuring safety and adhering to the precautionary measures against COVID 19.
This quarter proved to be productive despite the challenges brought by the pandemic. We are thankful to our dedicated staff, stakeholders, to patrons like you, and many others who worked for and with our young adults under the Futures program. We have managed to initiate diverse interventions as designed in the Annual Futures Program Plan. The goal for this quarter was to complete the life plan reviews and make quick progress on the admissions and living arrangements for young adults in transition to independent living out of homes.
Please find below some of the regular program updates and special interventions, undertaken.
Life exposure event: we had two life exposure events through a media expert and a poet. All young friends presented their poems with a live interaction hour. Later on, in the month we had a music session with a famous Jambe player (an African musical instrument). The guest is a musician, taking life on a challenge to become an international music player. He very passionately talked of life issues like - personal anxiety, resistance from family towards becoming a musician. Our YAs also asked many questions about his journey. Towards the end, he played the Jambe and our YAs enjoyed singing songs on environment issues.
Discussion on health: We had an exhaustive session on Covid19 with public health experts in different languages across all the 10 cities in India where we are present. The young adults (YAs) were quizzed on their general knowledge and emergency steps if one catches an infection. Also discussed was a crucial topic of differences between lockdown, self-isolation, and quarantine, and the procedures were discussed, with the help of presentation to the larger groups.
Saggeza class: selected YAs attended 'Saturday Saggeza' computer program which helped them to explore coding.
Career guidance class: A career guiding class was organized by 'Samvada- meaning conversation', an organization. This month we raised 56 books worth 6000/- to the YAs library in Bangalore alone.
Continuing education: We also underwent the admission processes of young adults which entail interaction with each home's would-be college attendee and choosing colleges based on the availability of seats, tuition fee, and the curriculum given, keeping in mind their interest and aspired careers. This was a celebratory process as all our current young adults' batches socred good marks despite the lockdown situations across the country. The same was concluded with many of them finalizing their colleges, a safe visit, an understanding of their term subjects leading to enrolment.
Life Education: Digital & Legal literacy: We had two round meetings with alternative law forums on legal literacy and got a proposal plan to implement the same. The session was focused on key themes like young adults' entitlements in India, the legal provisions, education structure, and laws. Much information was shared about accessing birth certificate, caste and income certificate, etc. It was an interactive session throughout where they put forth their queries on education certificates too. Another was a thorough session on the English language where we arranged an interaction with an English lecturer to have a conversation on learning English as a degree.
Job /Placement: YAs who went to attend job interviews or had virtual interviews await their results next month. Amongst this, we had some who didn't want to pursue higher education hence we talked to some companies and NGOs for recruitment. The response was good.
Alumni Follow up: Due to the pandemic there were incidents of young friends who passed out our homes long back and they came in contact with our homes carers once more in need of assistance in lockdown. So this quarter we reached out and included this group too in our regular alumni follow up. We were able to reach many such friends who needed emotional support and affiliation in these turbulent times.
Annual Program planning and budget planning with partner organizations: we had a presentation on the annual program plan and budget plan to all partners and direct home for more clarification on their involvement in the program They understood about the new future program and budget clarification and shared their challenges to state teams for further process.
Webinar discussion on NEP: India issued a new education policy this quarter which required an exhaustive discussion with our nexus of residential teachers and carers throughout the 55 homes at present. The speakers at their levels were expert scholars and educators who shared information about the present education policy and new education policy differences. It was an interaction model to help the YAs to know about the policy process.
Discussion on Marriage: YAs attended a discussion on marriage too, which was focused on marriage age and its impact on life. What are the gender roles people are taking in marriage life? How we are ready for this situation, trust issues, respect, and mutual likes and dislikes.YAs also expressed their doubts about the relationship between partners. It was concluded with a feeling that education and a steady income will help settle these personal aspects of life more smoothly.
With your continued support, we plan to have many different interventions in the pipeline to condition the young adults with the changing pedagogies of education in the current pandemic world. For this, we aim to regularly strengthen our digital infrastructure at the care homes and with the young adults living spaces.
In solidarity
Rainbow Homes Futures Team