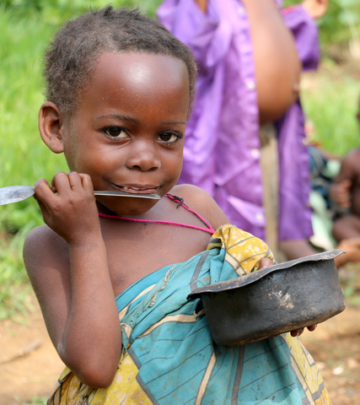 1) A young girl eats dinner in Beka, an Mbuti (pygmy) village in North Kivu, Democratic Republic of the Congo. Mbuti communities in DRC often suffer from the compounding effects of extreme poverty and societal discrimination and exclusion from nearby majority Bantu populations. The village of Beka, with around 60 inhabitants, has engaged with Mavuno through community-driven agriculture and sanitation, and has shown remarkable progress: in the second season of 2016, Beka achieved a 100% repayment rate on their agricultural microloans.
...
2) A reluctant goat receives an injection of antibiotics during a Mavuno veterinary inspection in Irango, North Kivu, Democratic Republic of the Congo. Mavuno provides a host of technical assistance to farmers in its Grassroots Organizations, aimed at boosting profitability and sustainability in their agricultural businesses
...
3) A makeshift ferry shuttles goods and vehicles across the Semiliki River after a bridge collapse in North Kivu, Democratic Republic of the Congo. DRC's infrastructure is famously poor, suffering from government corruption and mismanagement at all levels. Individuals and communities are often left to make up for governmental inadequacy; this ingenious ferry is a prime example.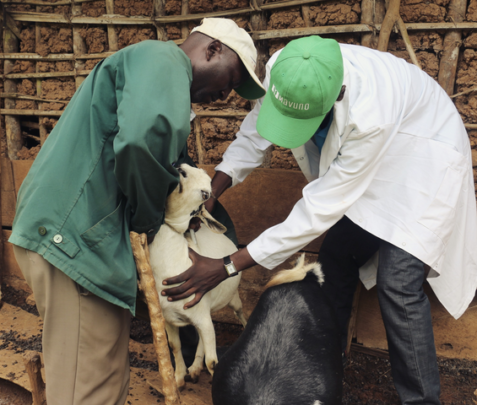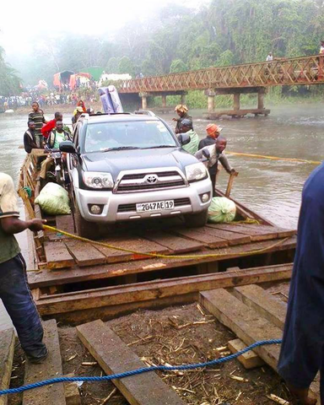 Links: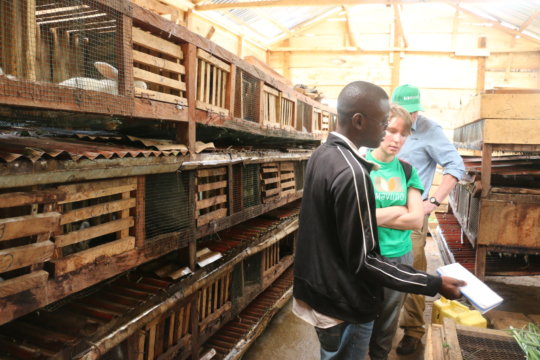 It's mid-March, and our partners in eastern Democratic Republic of the Congo are busy transplanting their seedlings from their individual nurseries to the field. On my last visit to the villages in February, I met with our veterinarian in charge of animal husbandry in Bunzi. Mathe (pronounced "mah tay") gave me an in depth tour of the community rabbit hutches. They were about to start a new cohort of animal husbandry students, he said, and the graduates of the program were asked to move their rabbits home. It was an ongoing process because last year's cohort had to prepare their homes to receive the animals. Mathe introduced me to Papa Simon, one of his outstanding students. An elderly but spry individual, Papa Simon had started with just a few rabbits and now had over 30 animals. He sells them at the local markets to pay for his children's school fees.
Mathe told me that not everyone had adapted as readily to raising rabbits as Papa Simon. Some of them found it difficult or too labor intensive to collect enough native plants to provide the dietary variety the animals need. One of the solutions that Mathe and Joséphine, our animal production supervisor, had conceived was to initiate their students to rearing livestock with an animal that doesn't require such advanced care: the guinea pig. The idea of eating guinea pig, or any rodent, may sound like a foreign concept in the global north, but this piece, by Alastair Bland in NPR's "The Salt," explained back in 2013 that guinea pigs were already gaining traction in the United States as a dish with Latin American influences. Guinea pigs have approximately the same length gestation period as rabbits but their fodder isn't as complicated and they can be bred anew more quickly than rabbits, according to Mathe.
Mavuno has plans to expand its animal husbandry operation with the construction of a new Rural Development Center. Our current livestock production is limited to the village of Bunzi, which was ideal while we were small because it was centrally located and offered a village of elderly a more diversified income. Now that Mavuno has grown to 11 villages, it makes sense to offer the same program at a larger scale and re-centralize it along our east - west axis. Not only will the Rural Development Center offer quality breeding stock for rabbit and guinea pig husbandry, it will also feature trial beds for fruit and vegetable production and a demonstration pond for aquaculture. All of these elements will take time, and will be factored into our budget over several years but we are excited to break ground on the project this year! Pamoja tuna weza!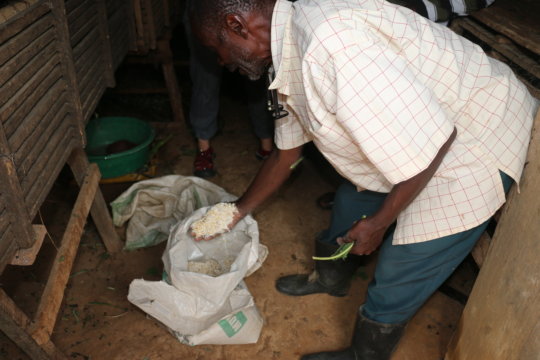 Links:
Mavuno just wrapped up a week long staff retreat reflecting on 2016 and looking ahead to 2017. 2016 was a big year for Mavuno; we expanded from 3 villages with 206 households to 10 villages with 888 households. During the year community members harvested 42 hectares of land, generating 177,005 kg of crops! That's equal to the weight of nearly 30 elephants! These crops generated $32,900 for families to use for healthcare, school fees, housing improvements, business development, and savings for the future. Over 400 rabbits were born through our livestock program, further contributing to household income. The economic impact has been significant, but the social impact has been even greater. We have seen families strengthened and communities come together. Children are healthier and happier, parents have hope in the future, and individuals believe in their ability to produce change. This is just the beginning; we look forward to partnering with you as we continue to empower local leaders to end extreme poverty in eastern Congo. From all of us at Mavuno, thank you for making 2016 a success! We couldn't do it without you!
Links:
WARNING: Javascript is currently disabled or is not available in your browser. GlobalGiving makes extensive use of Javascript and will not function properly with Javascript disabled.
Please enable Javascript
and refresh this page.