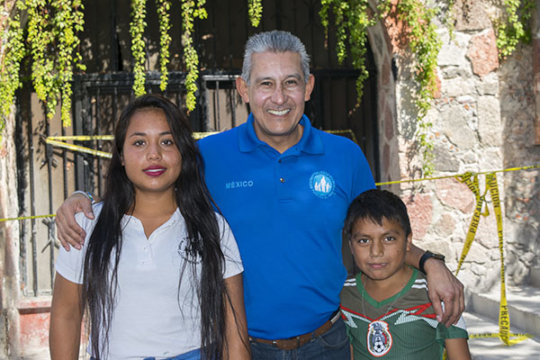 Hi everybody,
I am Rafael Bermudez, national director NPH Mexico since 2004, which means 16 years of serving with passion and love to almost 700 pequenos and pequenas.
At NPH Mexico we have five houses in three different Mexican states. In all the five houses we have prepared a disinfected area for possible asymptomatic patients developing the three symptoms, like having breathing problems before doing the coronavirus official test. We have two doctors and four nurses that are attending the three houses in the state of Morelos for possible asymptomatic patients. At the end of April the health Mexicans authorities declared that we are now in phase three which means most people will get the Coronavirus at a large scale.
In our main house in Miacatlan, casa San Salvador, we have completely locked ourselves. Nobody enters and nobody leaves. Out of 140 employees only 24 decided voluntarily to stay with us with their own families. With 67 acres of land we have our farm, field , three green houses, kitchen, bakery and tortilleria and we are rotating our 24 employees to provide everyday for about 400 children that live here.
It is a challenge, but we are all contributing so that we can all comprehend that our house can continue to run with 24 employees, 2 volunteers that stay and about 60 pequenos giving their service.
Our home in Cuernavaca, casa Juan señor, home to our technical high school students has also been locked up since Tuesday March 17th. We are operating without any employees and about 160 pequnos.
We are following the recommendations that NPH medical services is sending and every NPH house has bought supplies in advance. We have medical materials for possible asymptomatic pequenos, so that our medical stuff is protected in case there is the first case of positive coronavirus in one of our five houses.
We have in our storage room the basic food to operate until beginning of June since we decided to buy it in advance before there was nothing left in the market, because the Mexican government is taking supplies at a large scale.
The school continues either by internet platform or the teacher sending it physically or we, the tios, in Miacatlan making copies to continue with the expertise in the three levels of school.
I see the children at NPH- Mexico mentally fine, since they have different activities every day and we have decided now to ask again what activity they would like to do today instead of the tio always assigning the activities for the everyday. Another activity that we are doing is walks around our 67 acres and we discovered that it takes us about two hours and a half to walk all of it.
At last, everyday, we pray for all of you, sponsors and benefactors and for our family outside and for the medical staff that is saving and taking care of many sick people in the world.
God bless you,
Rafa