Sexual exploitation doesn't only happen in brothels, but also in massage parlours, karaoke café's, beauty centres, hotels and residential houses. Often, these places have hiding places to hide the minors. Also, victims are lured into exploitation under false pretences and nowadays, this often happens online.
86 arrestees in 2019
During a raid, our team always works together with the local law enforcement agencies. Impunity is a large problem and rescue raids can be very challenging. When our rescue team gets information from an informant, they start investigating. In order to fight impunity, Free a Girl also files charges against the perpetrators. In 2019, our rescue teams, together with the local law enforcement agencies, arrested 86 perpetrators of sexual exploitation. These perpetrators are brothel owners, pimps, madams, human traffickers and customers.
Combatting online exploitation
A major concern in India is that girls are increasingly being offered online. As a result, it is more difficult for Free a Girl and her partners to find minor girls in the red light districts. This is why Free a Girl has organized a workshop in New Delhi with her partners, other NGO's, universities and government officials to map the online exploitation of children with trainings and online research. Online detection is still at an early stage in India, but we can contribute with the expertise by professionals such as Gideon van Aartsen and Bas Eikelenboom.
6 girls rescued in Nagpur
Just after Christmas, our partner rescued 6 girls from different brothels in Nagpur. One of the survivors is a girl of sixteen years old. Her brothel owner moved her around the city to different brothels in order to prevent us from finding her. Her parents were directly involved in her trafficking and they forced her into commercial sexual exploitation. After multiple investigations, the police and our team luckily found her. She was locked in a room, hiding under a bed. The police searched neighbouring brothels in the area and rescued five other girls. The 3 brothels owners were arrested for human trafficking. We will encourage the girls to report their case so the perpetrators can be convicted. The 16 year old girl cannot be reunited with her family as they were involved in the crime. She will stay in a shelter and will receive medical and psychosocial care and education.
Shirisha* is 17 now years old. She belongs to the Badi community, which is a marginalized cast group. Her mother died when she was only 6 months old and her father remarried. Her stepmother deprived Shirisha of the care she needed as a child. She was raised by her grandparents. Her grandparents were very poor. Her family would seasonally migrate to Himanchal Pradesh for seasonal employment.
Shirisha met a woman from India who offered her a job as a salesgirl at a clothing store. As she was looking for ways to pay her grandparents for supporting her, she accepted the offer of the woman and went with her to India. They stayed in New Delhi for 5 days and on the 6th day, they went to a hotel for lunch. Shirisha wondered why they would stay at a hotel and she asked the woman. The woman responded that they were there to enjoy and that they would start working the next morning.
That evening, when Shirisha was sleeping, the woman locked the door of Shirisha and ran away. A few hours later, a man entered her room and attempted to rape her. The man told her that the woman had sold her to him for 260 dollars. Shirisha was shocked and tried to escape but this was not successful. She realized that she was trafficked. She was assaulted and raped and locked up for 2 months. She was rescued by a team of Shakti Samuha on their 6th surveillance visit to the hotel. With the help of the local police, the team conducted a rescue raid and rescued 4 girls, including Shirisha.
After the legal procedures, she was repatriated to Nepal and she now stays at the Half Way Home. Here, she is provided with psychosocial counseling and non-formal education. After rehabilitation, she would like to return to her grandparents.
* Her name was changed for safety reasons.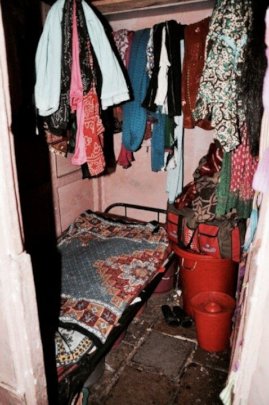 This year, already 35 girls have been rescued from the horrific circumstances of commercial sexual exploitation in India by Free a Girl and her partner organizations based in India.
2 Rescue reports
In February, our partner organization rescued Kani*. She is a 15-year-old girl who was forced into prostitution. She was rescued by the investigators of our partner organization and the local police in Central Maharashtra. She was trafficked from the North of India.The brothel keeper and another trafficker were arrested by the local police.
Another girl, Nilam*, was rescued. She is 17 years old and from Bangladesh. She was trafficked all the way to Maharashtra, India. Our partner organization partnered up with another anti-trafficking organization to conduct the rescue.
Our partner organizations had tried to rescue her also already another time. This raid had unfortunately failed because the brothel owners were warned by someone about the planned raid and therefore had transferred the girls to another location. Finally, during a raid in 2019, using a decoy consumer, she was rescued. The brothel owner is arrested. The girls are now safe at a shelter home. Here, they receive the psycho-social and medical care that they need. They get the opportunity to go to school and build on a brighter future.
* Different names were used in order to protect the girls.
WARNING: Javascript is currently disabled or is not available in your browser. GlobalGiving makes extensive use of Javascript and will not function properly with Javascript disabled.
Please enable Javascript
and refresh this page.