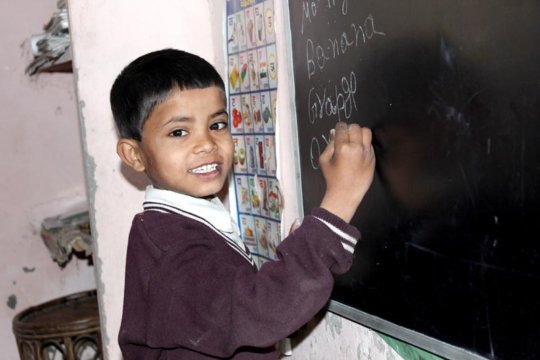 500 and counting…
We embarked on this journey with your kind and generous support to help 100 children learn better and score better in formal education. Sangam Vihar slum being the hub of deprivation, as last reported, we ended up enrolling more than 200 children, who started learning at five remedial learning centres.
We are glad to report that the project has received further support owing to which we are able to support more than 500 children now! The caravan has grown bigger in less than 3 months. Many of these children were not attending school regularly and were engaged in menial jobs like rag picking and waste picking. The support is providing them a opportunity to secure a place in the society and be worthy citizens of the nation.
With your support, we are able to save these children from misery and drudgery and help them enjoy a normal childhood, which is their right. We have been able to secure the Right to Education of more than 500 children.
There are 12 teachers who are imparting project based learning to the children who have varied learning abilities. The curriculum is designed in a way which supports the school curriculum, yet ensures that children imbibe the fundamentals through the creatively designed modules.
Children feel that studies have never been so much fun and the time spent at the centres is most cherished enjoyable moments for them.
Volunteers have come forward to give them books, clothes and other stuff to bring joy and happiness to their deprived lives.
Regular meetings with school teachers and parents, help build long term sustainability of the effort and buys commitment from other stakeholders. The schools have started appreciating the change in children, which is quite visible.
Children are participating in various events and activities planned at the centres, which is also helping to nurture the talent in these kids.
We are thankful to your support which has brought a ray of hope in the lives of these poor and underprivileged children, who can now dream of a future. The pain is slowly giving way to smiles on their faces. For the first time in their little lives, they've felt a sense of worth and belongingness, security and safety… which your help has brought.
We look forward to further support from you to pave their path firmly on the road to success and glory and to serve more and poor and underprivilged ones.