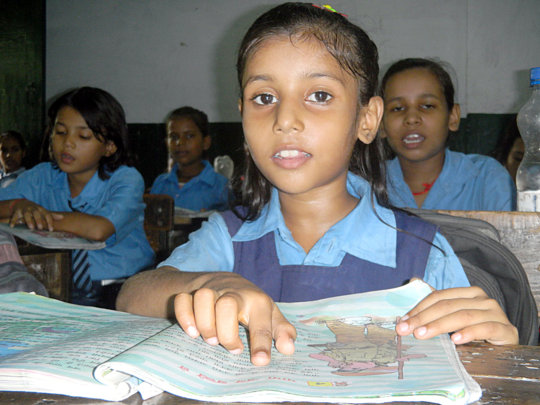 As the year 2016 comes to its end and RISE centres gear up for Christmas and new year celebrations, spirits are RISING high. With the new coming year, we resolve to make yet another year meaningful for our less privileged kids in slums. All thanks to all our funders, donors, volunteers, well-wishers and everyone associated with the project and the organization.
The aim of education is to bring changes not only in the amount of knowledge gained but also in the abilities to think and to acquire habits, skills and attitude which characterize an individual who is socially accepted and adjusted.
AROH thus believes in the "empowering" effect of education and its ability to enable people to develop a critical questioning attitude towards society, government, existing gender and cultural stereo types. And as you know RISE is a programme which provides an empowering and enabling environment to improve the learning outcomes of the kids from slums of Delhi.
Starting with a target of 100 kids we have managed to enroll approximately 500 kids in 10 centres. Apart from remedial education, teachers at RISE centres have been imparting behavioral education and different types of extra-curricular activities, such as arts and craft, drawing and painting, outdoor game activities, yoga, festive celebrations, etc. which have greatly helped in improving their personal attributes and confidence of children.
School teachers dealing with these empowered RISE kids report a marked improvement in the children's behavior and learning. All the RISE kids are getting much better scores in school after an year of intervention. Parents are relieved from the burden of paying high costs to private tuition. Children are spending more time in studies instead of getting involved in useless and vain activities in their free time.
Raj is an empowered child today. Raj, along with his father, moved from Maharashtra to Delhi when his father lost his job last year. He was enrolled in a Government school, but Raj's education started suffering due to language and cultural differences in the new city. Raj's parents could not afford private tuition due to poor family condition. Raj met one of the educators at RISE centre, and he was thrilled when she took him to meet other RISE children. "Now Raj is a bright student in his class and spends time in studies at home too", says his mother. Various extra-curricular activities and engagement with children helped in bridging the cultural differences and Raj quickly started performing better in his class at his formal school.
Similarly Vishal, has a spark in his eyes. Vishal is the third among four children of his parents. His father is a daily wage labourer, who finds it difficult to arrange one square meal for the family. Vishal's youngest sister had suffered a heart problem and the family could not save her as they could not afford the expense on treatment. Though Vishal was enrolled in a government school, sadly he could not attend school due to pressure of earning a living on his little shoulders. His father, a poor rag picker, took him to work and Raj remained busy picking waste and sorting it throughout the day. Once a RISE teacher saw Vishal and she was moved by his plight. There was a bright gem hidden in rags! The teacher convinced his parents to enroll him at the RISE centre and let him come for only two hours. Slowly Vishal started enjoying his sessions at the centre and showed excellent progress in studies. His parents have now pulled him out of labour and are paying full attention to his studies. Raj wants to be a doctor when he grows big! And RISE is helping him realise his dreams.
There is story behind every child. There is story of misery and drudgery, but dreams of a better future! We firmly believe that a small help goes a long way in giving someone a chance in life! Giving a child his childhood and his future!
We hope that your support to these kids would keep flowing to help us shape their future and give them a better life. Once again, thanks a lot for all your support.