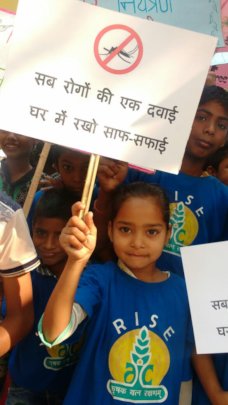 Hope for solving the massive social problems associated with urban poverty appears to centre increasingly on improvement in the methods of educating the culturally deprived children of the slums. Remedial Innovation in School Education has long recognized that such children enter school under handicaps not imposed on children of the middle class, that slum children often seem immune to standard instructional programs, and that a relatively large proportion of them quit school early and become misfits and unemployables. Some inevitably drift into delinquency.
Early efforts to increase the less fortunate child's capacity to learn took the form chiefly of remedial classes which are being held under RISE program of AROH Foundation in the Sangam Vihar Slums of Delhi. 500 children are being trained to shift from academic to shop or manual training work, and of providing extra services ranging anywhere from free meals to field trips, from co-curricular activities to scholastic enhancements, from slum to dream for world. The stress holds a deep root within the psyche of these children and so stress busters like dance, plays, songs, arts, crafts and other workshops have been made essential and regular events of RISE. Cultural events, aligned to existing festivals, become a platform for children to proudly display their talents to the community. The community in turn becomes the owner, custodian, and propeller with its own identity stake to help the centre in its objectives. Blueprints of a holistic development of the child have been drafted after much experiments and researches and are being implemented. A team of 10 ultra-capable educators, a well-qualified management ensures 500 lives are nurtured towards growth, peace and prosperity.
Mohit is a fruit of hard work put up by RISE educators, and his parents. He was a student in 5th standard in Delhi government school. But at this stage also he was not able to hold pencil properly and identification of simple alphabet was a struggle for him. Coming from a chronic background fighting for meal and money, extra support for better education was not even in thoughts. But Mohit's mother Sheetala Devi always saw education as a hope towards better life. During one of our RISE awareness campaign, Sheetala Devi came to know about RISE initiative in her region. It took her no time to get Mohit enrolled for the benefits. Mohit has been a regular student since start of RISE in 2016 and now after around 1.5 years, his growth is spectacular.
In her own words, Sheetala proudly says, "Nor just can he hold pencil, read and write but he is one of the best narrators of English poems and essays. Hard work put in by his educators, regular monitoring and his own dedication has made him score well both scholastically and in CCA too. RISE has given him wings to fly."
Education can be the catalyst needed by these children to pull not only them but their whole family out of the cycle of poverty and disparity. Education will give them the power to dream of a better future and a dignified life with improved food security and also better standard of health. And with support from all teh generous donors, we believe,
We Can & We Will !