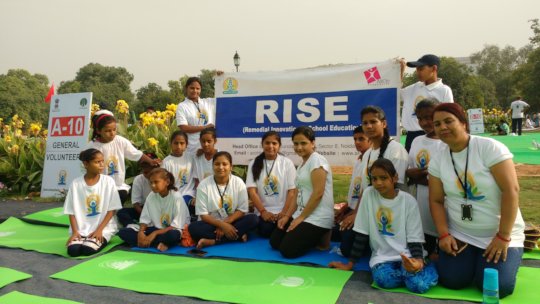 "To build a nation, build a school." -Amartya Sen, Nobel Prize-winning Economist
Poverty affects a child's development and educational outcomes beginning in the earliest years of life, both directly and indirectly through mediated, moderated, and transactional processes. School, parents', and community's readiness, or the child's ability to use and profit from school, has been recognized as playing a unique role in escape from poverty increasingly in developing countries like India. It is a critical element but needs to be supported by many other components of a learning friendly strategy, such as improved opportunity structures and empowerment of educators that play important role in shaping the life of our 500 poor children in RISE.
AROH Foundation embarked on the journey to bring hope to the lives of 100 poor and deprived slum kids living in Sangam Vihar, and as you are aware, with generous support from funding community, we were able to enrol 500 children at 10 RISE Centres.As we are completing about three years of operations, a remarkable change is seen the children who have been attending sessions regularly and are showing excellent improvement in attendance. Also the increase in scholastic development of children has been commendable.
RISE has been striving hard to foster emotional, psychological and educational well-being of its children. Rise children were introduced to yoga through participation in the biggest yoga rally held at the central park of Connaught place, the main venue of international yoga day celebration in Delhi. It was heart-warming to see our RISE children perform yoga amongst thousands of other participants. The aim of Yoga Session was Self-realization, to overcome all kinds of sufferings. The interventions were also planned to empower parents through learning classes for parents in RISE. Simultaneously the teachers were given extensive demonstration on new techniques of teaching learning, creating an ambience of excitement, enthusiasm and interests for children with easily understandable Post Based Learning (PBL) curriculums for easy learning. Introduction of better monitoring and assessment tools were done. There are no magic bullets that can be applied across all settings, but RISE not only strives to provide a better educational status to poor and underserved children, but the programme also tries to improve their nutritional by providing food supplements.
Holistic development of children ensures a healthier and brighter future for them. Both individual characteristics and contextual factors determine how children can benefit from educational opportunities and over the course of time, escape from poverty and stress and in RISE we are constantly creating layer by layer blanket to help children overcome such stress and RISE and SHINE.
With your generous support, 500 children are being led to a brighter future. They are being saved from misery and drudgery and given an opportunity to enjoy a normal childhood. Your generous support has helped us to serve and secure the Right to Education of more than 500 children living in extreme conditions of depravity. Now each one of them knows that THERE IS SOME ONE SOME WHERE WHO CARES!