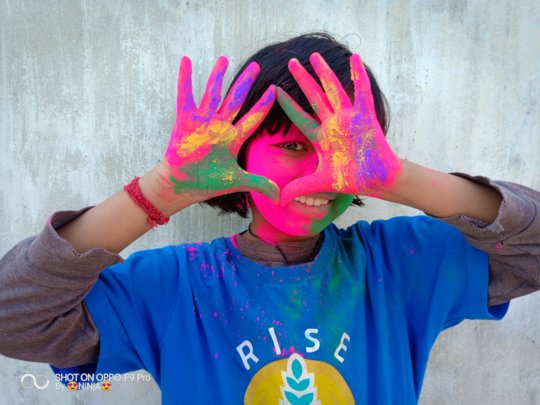 "Like stars are to the sky, so are the children to our world. They deserve to shine!"
- Chinonye J. Chidolue
Education is a step by step process of gaining knowledge the aim of education is to bring changes not only in the amount of knowledge gained but also in the abilities to think and to acquire habits, skills and attitude which characterize an individual who is socially accepted and adjusted. However, only bookish knowledge does not serve the purpose of wisdom enhancement especially when our children are dealing with unnecessary stress of poverty, stress, hunger and exploitation. And so AROH emphasizes to inculcate knowledge with fun. Working on the same line, celebration of various festivals, events not only introduces RISE children to the traditional roots of our country, but simultaneously enhances the learning inputs and outcomes.
RISE had a series of events, and it started with the celebration of International Women's Day to encourage the community women and showed symbolic solidarity for Women Power and the Women's Cause! And then festival of colours, Holi celebration indicated the triumph of goodness over evil power, which inspired chidren to fight all barriers to get what they deserve and achieve their dreams. As soon as the children's face colors turned out, RISE celebrated 'World Sparrow Day' an international initiative attempting to save sparrows and another species from extinction, and to raise awareness of the house sparrow and children with all thoughtfulness, with optimized use of waste materials and their innovations, recycled them into sparrow huts and hung them all through the biggest slums of Delhi, Sangam Vihar. As the one event was at its end, other events like 'World Water Day', 'World Health Day', 'World Malaria Day' & 'Earth Day',Book Day emerged and were celebrated. AROH Foundation, a proud complier of the UN Sustainable Development Goals, joined hands in the celebration by organizing awareness rallies on water conservation, malaria eradication and spreading awareness against the diseases. Moreover, Health check-ups and follow-ups were ensured with government Clinics were done for children and our educators and were provided with medicines, counseling and hygiene kits free of cost.
The idea to make learning fun has brought back essence of life back to many children at RISE, just like Aman, who was babysitting his younger siblings at home before joining RISE and losing his childhood in the hands of unwanted responsibilities. When he first came to RISE centre, at age of 8 years, he was a quite child who could not even recognise alphabets. After six months, he has improved gradually and has become a chirpy child with improved grades at school too. Many Amans are there in RISE to narrate the stories of learning with fun.
All these would have been just a story if your generous support would have not been with us. With your support,today our 500 children have been led to healthier & brighter future. We are indeed thankful to your support which has brought a ray of hope in the lives of our children, who can now dream of a future. We look forward to further support from you to pave their path firmly on the road to success and glory.