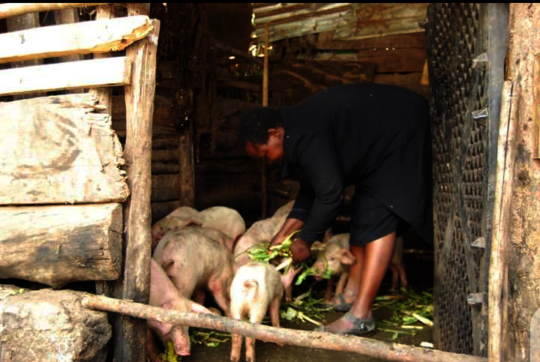 Introduction
Forty two percent of Kenya population lives below poverty line. Access to basic quality services such as health care, education, clean water and sanitation, is often a luxury for many people. Poverty is one of main cause of family breakage, depression, low self-esteem, anxiety and other mental health issues. Through your support Macheo aims to reduce poverty in vulnerable families and improve their economic dependency. Household economic strengthening intervention assists the vulnerable families through trainings, seed capital and job mediations. This improves economic independence of the families. We also train them on basic entrepreneur skills before doing the empowerment.
Overview
Due to poverty families have been torn apart by the stresses of trying to provide for their basic needs. Macheo Household Economic Strengthening intervention aim to improve the ability of the families to provide for their children. Macheo through your support was able to assist 304 families to establish business in the period 2019. During this fourth quarter vulnerable families were also trained on savings, business planning, market research and book keeping.
Activities
During the reporting period the following were carried out:
Seminars/life skills: Knowledge unlocks the potential of the client to success. During the quarter we trained the clients on saving, business planning, book keeping and market research. With the skills the client gains confidence to run the business. We managed to give 14 seminars and train 67 parents on life skills.
Economic empowerment: We have provided 75 families with seed capital to start businesses. We encourage them to come up with their own business idea after training.
Job mediation: We assisted three parents to get a job which has helped them improve their economical status. When one member of the family has a consistence income it will help them overcome poverty.
Follow-up/home visits: We have been visiting the clients to check on their progress and also to offer mentorship and support
Success story
Susanna, (not her real name) a 36-year-old, is a hardworking mother of six children who has made sacrifices for the sake of her children in order that they should have the best possible upbringing she can offer, by nurturing them.
Susanna struggled with life doing seasonal odd jobs that clearly hadn't been enough to get her up on her own two feet, being the only one who was able to work after her husband got involved in a fatal accident that left him bedridden for almost two years. This was the time that they struggled and wished the world came to an end. Susanna's family begged for food and slept in a shanty single dilapidated house. Her family was forced to choose between food, clothes and taking children to school. This is not a choice anyone should have to make. Susanna found herself looking scornfully and as one of those who weren't so lucky, but her experience living in poverty opened her eyes to what it's really like for families just trying to put food on the table.
When Macheo social worker first identified her, Susanna was going through challenges of hunger and other insecure living conditions. Through Macheo, Susanna was supported to start up a pig rearing business that has since then changed her family's life for the better. According to Susanna, she started the business with one piglet; the reason behind choosing pig farming business was that many farmers were associated with poultry and vegetable selling, but none with rearing pigs, so, she found that it was a great opportunity to start a pig rearing business. Susanna was also trained on financial management and record keeping during seminars that she attended at Macheo. Her ambitious and open mind enabled her to thrive in the pig rearing business. In the first year, Susanna had a stock of sixty one piglets. She narrates that after selling a number of them, she has made it to provide her family with a stable life.
Since Susanna started the business, she has been full of life and a very optimistic mother who always stands out due to her persistence and desire for improving her family's life. As her business thrive, she has been able to progressively improve the life of her family. Her financial stability has allowed her to make strides in educating her children and support her family in general. Susanna is thankful to Macheo for supporting her family when she was in dire need and she is dedicated to offer one piglet for free to support one needy family that is passionate in pigs rearing. "I do know that there are even many people worse off now than me, but until you experience this long-term poverty situation, you can't really understand how it devastates your ability to function and robs you of your health from the stress, the instability, and the lack of ability to eat healthy. Those were desperate times, before I had a chance to settle down and become a successful farmer and it pulled me out of poverty and gave me a better life. I do my best, and still I am grateful for the basic things in life that I have achieved through Macheo's support," says Susanna.
Appreciation
On behalf of the beneficiaries and their families, Macheo is extremely thankful for the moral, professional and financial support received from GlobalGiving. The lives we have transformed couldn't have been possible without your support. This report celebrates the success we've made together.
Thank you!