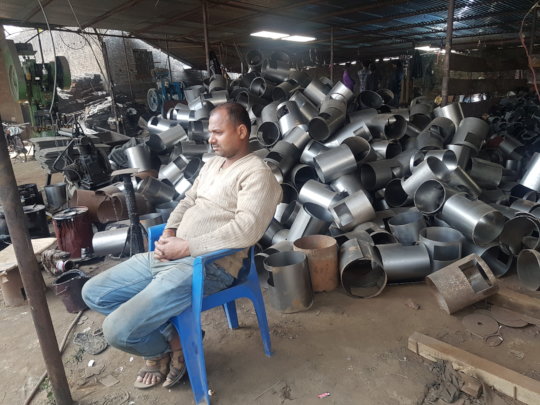 Project Report of Minimize indoor smoke pollution
By Bharat Bahadur khadka - Project leader
PCS-1 distribution
Many researches were conducted regarding the cause and effect of indoor smoke pollution. It occurred different types of diseases. The findings not yet shared widely specially at community level so the problem is not taken as serious issue. Acute lower respiratory infection is the chief cause of death in children in less developed countries, and exacts a larger burden of disease than any other disease category for the world population; even small additional risks due to such a ubiquitous exposure as air pollution have important public health implications. In the case of indoor air pollution in households using biomass fuels, the risks also seem to be fairly strong, presumably because of the high daily concentrations of pollutants found in such settings and the large amount of time young children spend with their mothers doing household cooking. Given the large vulnerable populations at risk, there is an urgent need to conduct randomized trials to increase confidence in the cause-effect relationship, to quantify the risk more precisely, to determine the degree of reduction in exposure required to significantly improve health, and to establish the effectiveness of interventions.
A cross-sectional assessment of indoor air quality in Nepal and its health effects revealed that solid biomass fuels (animal dung, crop residue, and wood) were the main sources of indoor air pollution affecting health. The average smoke level (PM10) in kitchens using biomass fuels was about three times higher than that in those using cleaner fuels. (kerosene, LPG, and biogas). Respondents in 98 randomly selected households included 168 who cooked daily meals, of whom 94% were disadvantaged women. Biomass smoke caused significantly more respiratory disorders than did cleaner fuels Categorized data analysis demonstrated significant associations between biomass smoke pollution and respiratory symptoms such as cough; phlegm; breathlessness; wheezing; and chronic respiratory diseases such as COPD and asthma. The prevalence of respiratory illnesses and symptoms were considerably higher in those living in mud and brick houses compared with concrete houses. Prevalence were also higher in those living on hills and in rural areas compared with flatland and urban areas.
Achievement:
PCS distribution
A total of 3000 PCS have been supported in last 3 months period.18000 people have been benefitted indirectly. In rural area people are more benefitted as they are rely on fuel wood.
Training support
Three orientation training were organized before the distribution of PCS. PCS using method, and importance of PCS were discussed during orientation. A total of 93 women participated the training which is conducted in 3 events.
Plantation
Different species of forest tree saplings were supported for the community people of Devghat, Tanahun district that will ultimately contribute in bio diversity conservation and climate change.
Key features of Husk cook stove which is provided to community members.
Efficiency 30.29%
Safe money up to 60%
Save time and effort up to 50%
Easy to use: No blow pipe required
Flexibility: Portable safe and easy to carry and relocate
Healthy cooking: Reduce smoke up to 80% Retain the natural traditional cooking taste
Main Activity Progress

1 Activities: Distribution of portable cook stove-1

Date and Venue: Dec, 2018 to Feb, 2019 in Makwanpur, Chitwon, Tanahun and Bara Districts.

Objective of the activity: Minimize the indoor smoke pollution

Remarks: Some of the pics of PCS that supported by MRC Nepal

Activities: Increase Awareness

Date and Venue: Dec, 2018 to Feb, 2019 in Makwanpur, Chitwon, Tanahun and Bara Districts.

Objective of the activity: Increase awareness among the community people towards adopting the environment friendly technology for cooking

Remarks: Provided training by MRC Nepal team)