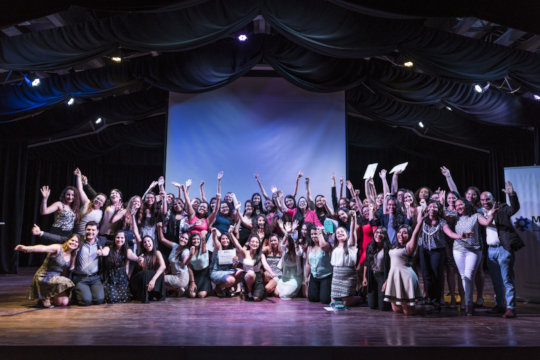 A VERY SUCCESSFUL FIRST SEMESTER

(Spanish below)
We've had quite a busy year so far, and we couldn't be happier! Our programs are growing, reaching more people and yielding great results and we've had the opportunity to participate in some amazing activities and events where we met great people and made connections that we hope will help us scale and continue to expand our programs. Since you are a big part of our success, we would like to share our achievements with you!
MenTe en Acción going strong
6th generation of MenTe en Acción graduates
The 6th edition of MenTe en Acción ended on June 16. At the graduation ceremony, 50 young women presented their projects that consisted of a prototype for a mobile app, to an audience of over 200 people including their family members, friends and the Ideas en Acción team and allies.
7th edition
The seventh edition started on August 25th at Parque La Libertad in the Center for Technology and Visual Arts (CETAV) where a new group of 50 young women will be participating in workshops on programming, introduction to new technologies, gender empowerment and leadership among other topics in an effort to motivate them to pursue careers in STEAM (Science, Technology, Engineering, Arts and Math). With the help of 20 technical mentors, participants will develop a mobile app prototype to address a social or environmental issue they detect in their communities. We received more than 270 applications from all over the country and by the end of this edition, over 350 women will have benefited from the program since it launched in 2015.
MenTe Network
The Red MenTe is a network that aims to inspire more young women to be creators and makers in science and technology, promoting the professional development of women in technology, connecting groups of women in the field to promote networking in the industry and job creation, and raising awareness and the visibility of women and their achievements. As part of the network, we organize different activities to offer further opportunities to MenTe en Acción graduates including:
Visit to Johnson&Johnson: 30 girls participated in a coding and design workshop given by company volunteers, female professionals who have STEAM jobs and careers in Johnson&Johnson.
Shadowing Day at Accenture: as part of their reward, the winning teams of MenTe en Acción 6th edition visited Accenture, one of our sponsors. During this visit they were able to share with female engineers and shadow them to catch a glimpse of their day to day at the office and what it means to be a woman in STEAM in the corporate world.
Visit to IBM: 20 participants enjoyed a day packed with workshops focused on the following topics: Safety, Design Thinking, the Internet of things, Analytics and Social. These workshops were designed and implemented by IBM as part of their Geek Girls program, which aims to empower women in STEAM careers.
Movie forum: We hosted a movie forum were we played and discussed the movie North Country.
Fuck-Up Nights San José
Along with AUGE (College Agency for Entrepreneurship Management at the University of Costa Rica), we hosted the third edition of Fuck-Up Nights San Jose. On August 8th, four entrepreneurs shared their failure stories and the different experiences they've had to overcome as entrepreneurs. The idea behind FUN is to portray failure as an important and necessary part of the entrepreneurial process, vital to grow and learn.
TEDx Auditions
On July 31st we held auditions for TEDxLlorenteWomen 2018 and TEDxPuraVidaJoven 2019. More than 30 people auditioned for the opportunity to participate as speakers at one of the events. We received over 90 applications from people motivated to share their ideas worth spreading, ideas that could inspire thousands of people in Costa Rica and the region. The programs continue to grow every year and we are proud to see that every year there are more amazing ideas and speakers to choose from.
Duolingo at CETAV
Students at CETAV received training to learn how to apply the Duolingo platform as a complementary tool to continue learning English. Participants are studying to graduate with various technical degrees, areas were it has been proven that improving their English abilities will greatly enhance their profile and allow them access to better job opportunities once they graduate from the center. We developed a virtual Duolingo for Schools classroom were we follow up on their progress, and students can practice the language in an innovative way using technology.
Office of Women's Issues Implementers Conference in Mexico
Melissa, our Co-Founder and Executive Director attended the Office of Women's Issues Implementers Conference in Mexico where she got to share and have conversations with other women programs implementers across the region, looking for collaboration and growth opportunities. The conference was a 3-day training event with over 20 other implementers from Latin America and the US touching on topics ranging from Economic Empowerment of Women, and Women's Political Leadership, to Risk Assessment. We would like to thank the US Department of State for the opportunity!
Latinity – Empowering Latin American Women in Technology
Latinity is a conference where attendees join to discuss topics related to the empowerment, participation and inclusion of women in Technology. This year the conference took place in Colombia and we were invited to talk about out program MenTe en Acción. It was a great event and we're really excited about upcoming collaborating and scaling opportunities in other countries. We truly loved the Latinity 2018 experience!
Nothing left to say but thank you! We really couldn't do any of this without your continuous support! Thank for believing in our goals and our team and for joining our extended family!
UN PRIMER SEMESTRE MUY EXITOSO

Hemos tenido una primera mitad del año llena de actividad, ¡y no podríamos estar más contentos! Nuestros programas están creciendo, estamos alcanzado cada vez a más personas y logrando excelentes resultados. Además hemos tenido la oportunidad de conocer grandes personas y crear conexiones que esperamos nos ayuden a escalar y continuar expandiendo nuestros programas. Como ustedes son una parte esencial de nuestro éxito les queremos compartir algunos de nuestros logros:
MenTe en Acción caminando con paso firme
Graduación de MenTe en Acción, sexta edición
La sexta edición de MenTe en Acción cerró el 16 de junio. En la ceremonia de graduación, 50 jóvenes mujeres presentaron sus proyectos los cuales consistían en un prototipo de una aplicación móvil. Defendieron sus proyectos ante una audiencia de más de 200 personas que incluía sus familiares, amigos, y al equipo y aliados de Ideas en Acción.
Sétima edición
La sétima edición arrancó el 25 de agosto en el Parque La Libertad en el CETAV (Centro de Tecnología y Artes Visuales) con un nuevo grupo de 50 jóvenes quienes estará participando en talleres sobre programación, introducción a nuevas tecnologías, empoderamiento de género y liderazgo entre otros temas en un esfuerzo por motivarlas a que elijan carreras en STEAM (Ciencia, Tecnología, Ingeniería, Arte y Matemáticas por sus siglas en ingles). Con el apoyo de 20 mentoras y mentores técnicos las participantes vana desarrollar un prototipo de una aplicación móvil para solucionar algunas problemática social o ambiental. Esta vez recibimos más de 270 aplicaciones provenientes de todo el país, y para el final de esta edición más de 350 mujeres habrán pasado por MenTe desde la primera edición en el 2015.
Red MenTe
La Red MenTe es una red que busca inspirar a más mujeres jóvenes a ser creadoras de ciencia y tecnología, promoviendo el desarrollo profesional de mujeres en tecnología, conectando grupos de mujeres en el campo para promover la colaboración en la industria y la creación de empleos y generando conciencia y dando visibilidad a las mujeres y sus logros en estas áreas. Como parte de la red organizamos diferentes actividades para ofrecer más oportunidades a las graduadas de MenTe en Acción fuera del programa. Este año ya han participado de las siguientes actividades:
Visita a Johnson&Johnson: 30 chicas participaron en un taller de codificación y diseño ofrecido por voluntarias de la empresa, mujeres profesionales que tienen carreras en STEAM en Johnson&Johnson.
"Shadowing Day" en Accenture: como parte de su premio, los equipos ganadores de la sexta edición visitaron las oficinas de Accenture, uno de nuestros patrocinadores. Durante su visita pudieron compartir con ingenieras y seguirlas para dares una idea de su día a día en la oficina y lo que significa ser una mujer en STEAM en el mundo corporativo.
Visita a IBM: 20 participantes disfrutaron de un día lleno de talleres enfocados en los siguientes temas: seguridad, Design Thinking, el Internet de las cosas, analítica y social. Estos talleres fueron diseñados e implementados por IBM como parte de su programa Geek Girls el cual pretende empoderar a mujeres en carreras STEAM.
Cine fórum: Tuvimos un cine fórum en el que presentamos la película North Country seguida de un discusión con los asistentes.
Fuck-Up Nights San José
Junto con AUGE (Agencia Universitaria para la Gestión del Emprendimiento de la Universidad de Costa Rica), presentamos la tercera edición de Fuck-Up Nights San José. EL 8 de agosto cuatro emprendedores compartieron sus historias de fracaso y las diferentes experiencias que han tenido que superar en su camino como emprendedores. La idea detrás de FUN es presentar el fracaso como una parte integral y necesaria en el proceso de emprender, vital para crecer y aprender.
Audiciones TEDx
El pasado 31 de julio llevamos a cabo las audiciones para el TEDxLlorenteWomen 2018 y el TEDxPuraVidaJoven 2019. Más de 30 personas audicionaron para tener la oportunidad de ser conferencistas en uno de los eventos. En esta ocasión recibimos más de 90 aplicaciones de personas motivadas a hablar de sus ideas que vale la pena compartir, ideas que podrían llegar a inspirar a miles de personas en Costa Rica y la región. Los TEDx continúan creciendo año con año y nos enorgullece ver que cada año hay más ideas y conferencistas increíbles con deseos de participar.
Duolingo en el CETAV
Estudiantes en el CETAV recibieron entrenamiento sobre cómo utilizar la plataforma Duolingo como una herramienta complementaria en el aprendizaje del ingles. Los participantes están estudiando diferentes técnicos, áreas en las que se ha comprobado que mejorar su nivel de ingles enriquece su perfil y les da mayor acceso a mejores oportunidades laborales una vez que se gradúen del centro. Desarrollamos un aula virtual en Duolingo for Schools donde podemos dar seguimiento a su progreso y los estudiantes pueden practicar el idioma de forma innovadora utilizando la tecnología.
Conferencia "Office of Women's Issues Implementers" en México
Melissa, nuestra co-fundadora y Directora Ejecutiva asistió a la conferencia Office of Women's Issues Implementers en México donde pudo compartir y conversar con otras personas que implementan programas para mujeres a través de la región, en búsqueda de oportunidades para colaborar y crecer. La conferencia fue un evento de capacitación de 3 días en el que participaron más de 20 implementadores de América Latina y Estados Unidos tocando temas que incluyeron desde el empoderamiento económico de las mujeres y su liderazgo político, hasta el manejo de riesgos. ¡Quisiéramos agradecer al Departamento de Estado de los Estados Unidos por esta gran oportunidad!
Latinity – Empoderando a Mujeres Latinoamericanas en Tecnología
Latinity es una conferencia en la que los participantes se unen para discutir sobre temas relacionas con el empoderamiento, participación e inclusión de mujeres en tecnología. Este año la conferencia se llevó a cabo en Colombia y nos invitaron a hablar acerca de MenTe en Acción, Fue un evento excelente y estamos muy emocionados por las nuevas oportunidades de colaboración y escalamiento en la región. ¡Verdaderamente no encantó la experiencia Latinity 2018!
Por el momento no nos queda nada más que decir que ¡gracias! Realmente no podríamos hacer nada de esto sin su apoyo continuo. ¡Gracias por creer en nuestras metas y en nuestro equipo y por ser parte de nuestra familia extendida!