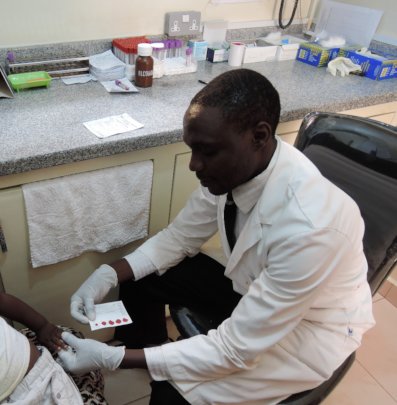 Building an HIV-free Generation – How the EMTCT Programme transformed a mother's life
Clare, a resident of Kyebando learnt of Alive Medical Services (AMS) through her mother who is also a recipient of care at AMS. This was five years ago. She was first made aware of her HIV status when she was in primary school. Clare was born with HIV and she rejected treatment for some time because of fear of stigma and the routine of taking medicine.
"For the time I spent off medicine, I resorted to self-medication where I would buy sceptrin from drug shops and take, thinking that this would help me somehow." She remembers falling sick one day and that's when her older sister and her mother insisted on bringing her to AMS where she has been getting her treatment since then. "I had also acquired TB at the time and therefore was started on double treatment when I was enrolled into care here."
Clare is now a mother of three through the elimination of mother-to-child transmission of HIV (EMTCT) program and all her babies are free from HIV. 'I came here and explained to the health workers that I was pregnant. They fully supported me and started me on treatment to keep my baby from getting the virus." She says that the treatment has helped her family especially her HIV negative partner from acquiring the virus.
Though she admits that it is difficult to reveal her status to her partner, Clare agrees to the fact that it is important for her partner to know her status. 'He does not know that I am getting treatment from here. I am sure he is HIV negative because he has tested for HIV several times and I am also virally suppressed. In addition, I am afraid that when he learns about my status, I might lose my family forever." Clare recalls losing her first family because of that and that's why she wants to take her time before telling her husband about her status. In the meantime, the AMS counsellors are going through sessions with her to disclose to her partner in the most convenient and delicate way with their active involvement in the process.
Clare's family is healthy and faring well in terms of raising her children. "My first born is in school and I will soon be enrolling the second one in school as well who is three years old now. I am ready and want to live for my boys. I want to give them an education and a quality life." "I might give birth to another baby after these ones have been enrolled in school," Clare adds.
The 32-year-old shop attendant reveals that she was always off work because of sickness. "It was after I resumed treatment that I thought of conceiving because I felt better and strong. This did not take away the fears of giving birth to an HIV positive baby. But when I spoke to musawo (Health worker) and she said I could have a child free from HIV, my hope was restored."
Clare is happily attending to her business of running electronics shop near the old taxi park in Kampala. 'I want to work for my family and ensure that my sons and husband remain HIV negative."
Clare continuously hails the care, support and hope she received through the EMTCT program, "My greatest joy is that my sons are alive and HIV free. I don't know how to express my gratitude for that; Thank you AMS. I cannot even imagine skipping my treatment because I now have what to live for; my sons."
Links: