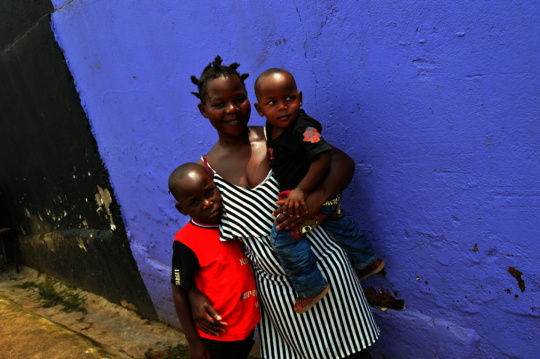 Sara (not real name), a 28-year-old single mother of two boys, works as a housemaid for an Indian family and resides in Kanyogoga, a slum area in Namuwongo. Sara joined Alive Medical Services in 2010 after a series of what seemed like signs of HIV. She had a skin rash, an irritating cough and she was consistently losing weight, these were all signs of HIV according to what people said. She used to escort her friend who was already in care at Alive Medical Services for drug refills. Her friend kept on encouraging her to test as she showed some of the signs of HIV. Sara was at first afraid to take that step of knowing her HIV status as she was a breastfeeding mother of a 17-months-old baby. She courageously took the test and the result was positive as she had suspected.
"I was at first traumatised about the news; I was even afraid to tell the counsellor that I had a breastfeeding child at home ("Naka were") and when I told my husband, he left me with the child," Sara said sadly.
Sara did not disclose to the health worker that she had a baby before she confirmed her status. As her child grew up, he repeatedly fell ill and then developed a skin rash at 5 years; not to mention the child is dumb and deaf. "I felt like he already had so much to deal with, but I had no choice". She then decided to bring him for medical attention where they suggested for an HIV test. Sadly, the result turned out positive.
Sara felt hopeless because she did not have any psychosocial support and her friend had died. She got the courage to disclose to her mother after five years as she could no longer handle the situation by herself. Fortunately, her mother was supportive, compassionate and she has never been judgemental towards her daughter.
From the day Sara found out her HIV status, she has gotten the best counselling and health tips especially on the importance of having a balanced diet. Sara regained hope, self-love through all the support offered at Alive Medical Services, from food to medication and she is more stable now and managed to get a job where she earns fair pay which she didn't expect once her life had taken a turn. "Even if my child barely speaks or hears, he usually looks at the clock and when it clicks 8:00 pm, he taps me as a reminder and gives me the sign that it's time for medication, the only challenge will be disclosing to him in such a situation when he gets older".
Sara restored her life back and had a second baby who was under the guidance of the health workers in the EMTCT section at the clinic. Her second child is happy, healthy and HIV-negative.
For all these years she has spent on medication, Sara would love to thank the whole staff of Alive Medical Services especially the lady in the EMTCT section (Linda) who has been very supportive; "she tells the truth of what will happen if you do it the way you are told to do and she will show and help you how to do it the right way".
Mwebale nyo, mwebalilire ddala.
(Thank you so much)