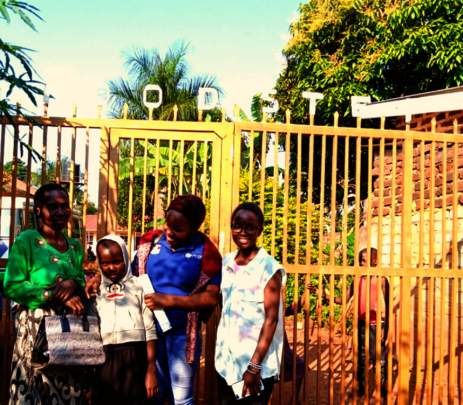 "My name is Rachel (not real name), I used to live with jjajja in Salaama but I now live at FoodStep Uganda in Entebbe. I am not certain of my age because I have never celebrated any birthday ever, but jjajja says I am about 11 years old, that is all. She never tells when I was born, possibly because she does not remember.
Jjajja and I did not have enough food, and we never used to eat well, basically, it was posho with beans or silverfish "mukene" which was not always sufficient. Sometimes we went hungry for days and yet we were on daily medication. It would get very depressing when we did not have food to eat. This caused my Viral load to go up hence never suppressing making it easy for me to get many illnesses and infections. In July 2020, I was not well which led to admission for over two weeks. I thought I was going to die.
The health workers at the clinic got interested in why I was not getting discharged from the centre. Then came aunty Winnie (a pharmacy attendant) and Peace (a peer educator) who wanted to get to the bottom and realised I wasn't having enough food and took it upon themselves to make sure I ate the right food during my stay at the centre. They then linked me to Foodstep Uganda, a home where I can get the health and physical guidance to live a healthy life. At Foodstep Uganda they will be able to provide the services I need because my grandmother cannot.
After consulting my grandmother and gaining consent for the support, I officially joined Food Steps Uganda on the 30th of July 2020.
At Food Steps Uganda, I have met so many people, aunty Aisha, aunty Annette, papa, mama. Everyone is nice, friendly and we even eat well. The food is really nice all the time, especially my favourite, matooke and rice. The best part is the home-schooling part and I love it a lot, I know that if school begins, I will be able to join school since I can at least write my name."
Ever since Rachel joined FoodStep Uganda, she is happy and healthy. She takes her medication without any fear of hunger. When she came back to the clinic, the girl who could barely answer to a simple question like "How are you?'' is now ready to respond to all questions with a smile on her face.