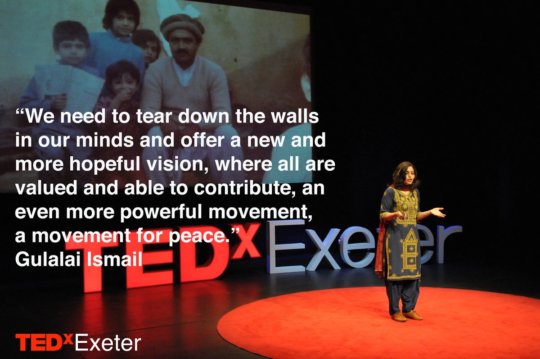 In April this year, Gulalai Ismail travelled to Exeter, Devon, and took centre stage on a red dot at Exeter's Northcott Theatre.
For her bravery, innovation, and dedication to peace, Gulalai was invited to give a TED talk as part of TEDxExeter, an annual event celebrating the world's most inspirational thinkers.
In front of almost 900 people in Exeter University, and joined by thousands of others watching online, Gulalai shared the story of her community, and how she realised she must help tackle violent extremism in Peshawar, Pakistan.
She told of the day that a woman in her village had come home to find the body of her son on her doorstep. A year prior, he had joined the Taliban. Seeing the utter despair of the woman at the preventable death of her son, Gulalai realised that she must help the other families in her community, including her own, to avoid this fate.
Aged just 16, she founded Aware Girls with her sister Saba to provide training to the young people where she lived, and offer them an alternative to intolerance and violence.
It is only thanks to people like you that Gulalai is able to share her incredible story. Only through your support is Aware Girls able to grow, and continue to give Pakistan's young people the opportunity to realise their rights, access equal opportunities, and pursue a life of peace.
Thank you for helping Aware Girls to make this possible.
Gulalai's talk will soon be available to watch on YouTube. In the meantime, check out her profile on the TEDxExeter website.