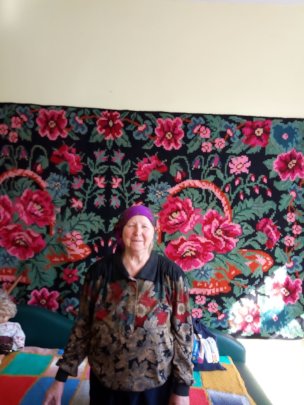 Dear Donors
During the reporting period, Day care center provided services and activities to 224 elderly . 190 elderly (132 f and 58M) visited the center. 100 (67f and 33 m) elderly receive a hot meal , 132 (91 f and 41 m) use the laundry at the centre ; 158 (109 f and 49 m) elderly have shower . 16 elderlies (14 f and 2 m) are provided three times per week with qualitative home care service by a team of 4 social workers. 18 eldlerlies (12f and 6m ) are supported by peer to peer group.
The centre was visited 5156 times (3702 times by f and 1454 times by m), 6874 lunches were served (4915 times for f and 1939times for m), Shower services were provided1564 times (1102 times for f and 462 times for m),Laundry service were offered 982 times (706 times for f and 276times for m) or 4910 kg of laundry was washed ,109 times the kitchen staff was helped by the beneficiaries (peeling the vegetables),110 times beneficiaries played cards, domino or chess ,100 times the elderly did gymnastic workouts,108 times the blood pressure was measured,302 massage sessions were done to 38 elderly (28f and 10m),6 times, lessons on health issue were organized,17 times the club "I want to know" met ,49 times the newspapers group discussions were held,24 handicraft classes were done ,78 times handicraft groups met,22 times choir (16 members 4 m and 12 f) met ,15 times the dance group 8 members (4 f and 4 m) met,2 experts held seminars. The topics are Diabet, prevention and treatment and the second the aspects of the voting 2019,4 excursions to the Zoo, 4excursions to Capriana Monastery, 2 excursions to Dendrarium with 50 elderlies were made in September,24 psychological counselling sessions were held and 7 discussions with beneficiaries were made, 22 English lessons for the elderly took place, 29 times the elderly worked in the garden, helping the staff, 6 concerts were attended by the elderly,
4 special events organized with representatives of Public Library: January 15th event dedicated to the greatest Romanian Poet Mihai Eminescu, 14th of February in the memory of the poet Grigore Vieru, 7th of March book presentation on the topic Women, 17th of April discussions and book exhibition on the topic Easter, 16th of May in memoriam of the greatest Romanian opera singer Maria Biesu
Monthly celebrations of the birthdays of the beneficiaries are performed. Monitoring home visits were done monthly or at the necessity.
16 elderlies (14 f and 2 m) are provided three times per week with qualitative home care service by a team of 4 social workers.
4 new beneficiaries were registered and 2 elderlies were transferred to the day care centre services during the reported period. Peer to peer group 18 elderlies (12 f and 6 m) are supported by 16 elderly volunteers (14 f and 2 m).
All this support it is possible due t the support of donors, persons with big souls. On behalf of the elderly we thank you for your involvement.