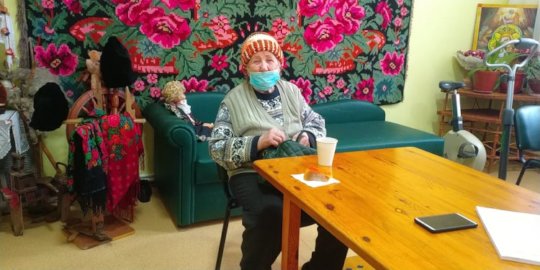 Dear Donors,
The data of the National Bureau of Statistics estimates that in the RM there are 2.64 million citizens with usual residence status, out of them every 5 person is aged over 60 years old. In the RM, as in the other parts of the world, the share of the older population has increased from 13.6% in 2000 to 21.8% in 2020. Out of the total number of older people, women represent about 60% and 10.9% are people aged 80 years and over
The older population from the RM continues to face low living standards that affect all aspects of life, including their health and emotional condition, fact confirmed also by the Global Age Watch Index12 . Lack of financial resources, poor nutrition, poor living conditions, lack of access to basic hygiene as well as working conditions throughout life are just some of the problems the older people face. On the other hand, the potential of older people is not fully recognized in the Moldovan society.
During the pandemic we continue to help and support our elderly. In order to prevent the infection and spread of the virus we delivered lunches, hygiene and washing material for seniors. Psychologist and social assistance phoned daily about 10 seniors and discussed various subjects and tried to solve the problems they met. In the same time all the elderly dreamed to come to the center. We asked them what the center represents for them and they said:
"Dream House is not joyful as it cannot receive beneficiaries. We can't do the things we like. We can't meet our friends… We get only warm food, cleaning products. The psychologist tries to make us feel hopeful that life will turn to normal after COVID". Older woman, volunteer, 79 years old
"They meet all my needs… I am not hungry, I can take a bath, can talk… When I need I get a haircut. It is very good at our kindergarten for old people…" Older woman, 86 years old
"At the Center I can joke… I don't have anyone to talk to at home, I go outside but, no one passes by whom I can talk to". Female beneficiary, 86 years old "We spend all holidays and it is beautiful, funny and interesting". Female beneficiary, 71 years old.
Finally at first of February we were able to reopen the center with all the restrictions and rules. All the activities and services provided to the elderly due to the involvement of the donors and we would like to thank you for your openness and support during this hard time. We hope in bright and health future.
Here are some pictures from our daily activities at the center.
With love from Moldova.