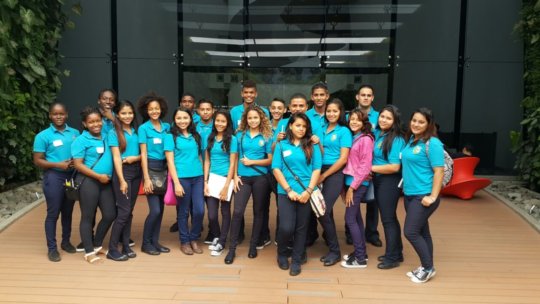 Report 2: Help youth in Limón, Costa Rica finish high school
Thanks to your support, Fundación Acción Joven has been able to close the year with raised spirits. During the last trimester of 2015, we continued our work in Pacuare High School, reaching out and supporting over 300 students from socially vulnerable contexts. We are very grateful to all of the participants of our First Global Giving Campaign, who together contributed $5,020 to support youth in the community of Pacuare, Limón.
The last three months have been key in our mission of preventing students from abandoning high school. In our effort to empower, motivate and encourage these teenagers to continue their education, we have carried out a series of activities and interventions. Below you will find the details of our main achievements over the last three months. Once again, we´re grateful for your support for our mission to reduce high school dropout in Costa Rica.
Supporting Students Finish the School Year:
Within the Costa Rican education system, October is a key month: the end of the school year is close, high school seniors are preparing for the national exam to graduate from high school, while students in other grades are also preparing for their final exams. The main work carried out in high schools during the last trimester has been to develop effective strategies to prevent students from dropping out and support them in successfully finishing the school year.
Individual Follow-Up and Home Visits
Together with teachers and counselors during September and October, we carried out visits to the homes of students with numerous absences and other challenges in order to understand the personal and family situations of each student and know how to best support each one in improving their attendance. This follow-up helped us to be able to develop remedial plans for the students to remain in (or return to) school.
During this time, FAJ carried out 22 home visits to students that were at risk of dropping out of school. The aim of the visits is to involve families in the process of motivating the students to remain in school. Home visits also allowed us to understand each student´s individual context, which is vital in order to be able to build a support network for the teenagers.
The FAJ team also carried out 83 individual follow up meetings/sessions with students who needed additional support. In the specific case of Pacuare High School, we needed to provide a great deal of personalized support given the violence that affect the communities where students live. Drug use, fights between rival gangs, family problems related to drugs, unemployment, and poverty are among the main issues that students face and that require extra support from our team.
Workshops and Sessions:
Additionally, we carried out sessions addressing four main topics previously identified as a priority: sexual health, human rights, drug use and employability. These sessions were designed for seventh and tenth graders, both levels being the ones with highest dropout rates.
The sessions and workshops followed the "Integral Model for the Prevention of Student Drop-out", a methodology designed by Fundación Acción Joven in which the students are the center of the process and are empowered to lead change in their school and in their own lives by identifying challenges and developing and implementing solutions.
Youth Employment Program
We continued implementing the Youth Employment Program in Pacuare High School with 10th grade students. Through workshops and sessions that the FAJ team carried out, teenagers had the opportunity to develop and strengthen their soft skills, focusing on: team work, social interaction, assertive communication, positive relationships and conflict resolution. The employability workshops have been particularly successful in enabling the students to understand the importance of their education for obtaining a job and were implemented with strong support from the high school counselor, math, civic, English and social sciences teachers.
The company visits continued during the last trimester of the school year, which allowed students to receive more exposure and to visualize themselves in the future as a professional. Company visits not only represented a great opportunity for the students, but also for the program in general, building a network of institutions committed to empowering and equipping youth in the community of Pacuare.
By the end of 2015, Fundación Acción Joven, in partnership with participating companies, impacted a total of 146 students of Pacuare High School through the Youth Employment Program.
Projects and Activities
Financial Education Workshop: Thanks to a partnership with the National Financial Education Strategy, 10th grade students at Pacuare High School participated in a workshop on finances, credits, and the importance and benefits of having a savings account.
Gotitas de Vida (Drops of Life)- this student club was active in planning activities focused on preventing bullying at the high school and teaching others about tolerance and respect.
Saprissa Foundation: As a strategy to generate teamwork among students, we carried out an initiative called Let´s go to the stadium" in partnership with Saprissa Foundation. The initiative seeks to motivate students to not miss school, to get good grades and to work as a team. After a three month process, the classes with the best academic performance were awarded with a trip to the Saprissa Stadium to attend a soccer game and receive a special recognition. The students from the 7-4 class and the 10-2 class from Pacuare High School won the challenge!
Empowering Teachers and Principals
Fundación Acción Joven seeks to strengthen the institutional capacity of all of high schools where we work. As part of this approach, the FAJ team organized training sessions for administrative staff and teachers in Pacuare High School on how to identify strategic needs and how to create and implement successful projects that respond to the challenges the teachers identify.
Pacuare High School teachers also benefited from the program Movilab Session II organized by our partner organization Fundación Omar Dengo. The training instructed teachers on how to use technology to improve their lesson plans and make the learning process more effective and engaging for the students.
In October, we held our annual ¨Successful Principals¨ workshop. It consisted of a three day seminar that allowed principals from around the country, including Pacuare High School, to exchange experiences and participate in practical sessions to reinforce leadership, strategic planning, and management and communication skills, among others.
Results
We closed 2015 with very positive results. Our intervention in Pacuare High School has had a positive impact among the students, visible through the considerable reduction of the dropout rates. For 7th grade the number of students who abandoned the education system declined from a 32.4% (before FAJ´s work) to 10.9% in 2015, while the 10th grade statistics went from a 15.8% previous to FAJ´s intervention to a 7.69% in 2015. It is very gratifying to see that our efforts and the commitment of the youth and other partners have succeeded in empowering youth from at-risk contexts to stay in school and out of the streets. Your contribution has been key in this process!
Thanks again for your solidarity and support!
Please feel free to contact us if you have any questions regarding this project or would like more information on how to stay involved.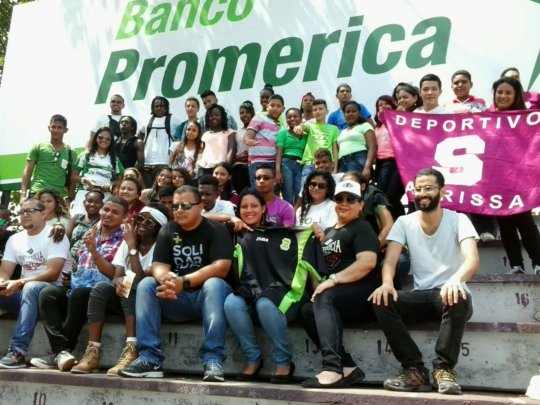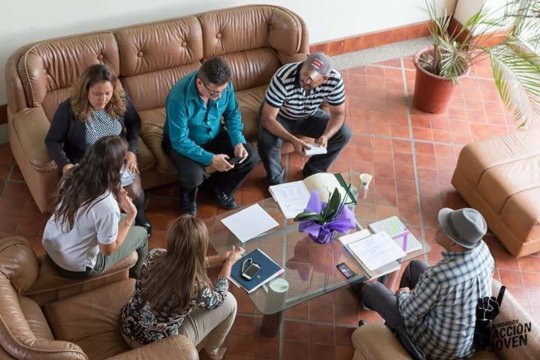 Links: