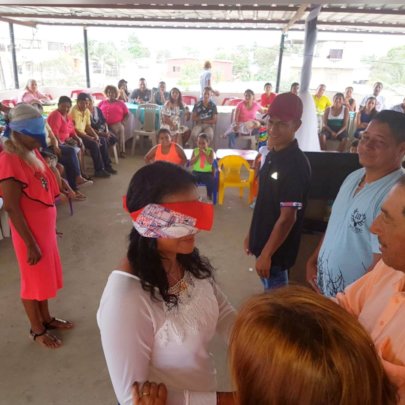 Thank you to all of our 2017 sponsors and donors for their support.
For most children, the holidays are time of joy, celebration and being together with the ones they love. Unfortunately, for many families with children who do not have enough resources, Christmas becomes a difficult time, full of disappointment, confusion and frustration.
On December 15, we decided to bring a CHRISTMAS FOR ALL at Bahia de Caráquez, where we invited all the families of Leonidas Plaza Community to enjoy a very special time with their children. During this event, they had theater, they sang, they listened to the word of God, they enjoyed a delicious lunch and finally we delivered to each family a food basket and toys for their children.
The whole team of volunteers actively participated; they helped organize the parents into different activities and playgroups for the children. It was a day full of emotions, drawing smiles on their faces was priceless. For many of these children it is the only holiday celebration they will have.
The magic of Christmas comes in many shapes and forms. We could see and feel that magic on a long-awaited day for them, maybe we cannot repeat it, but it was unique and memorable.
The Christmas Spirit is ageless, timeless, loving, giving, and generous. It can be no other.
It was a CHRISTMAS FOR ALL!