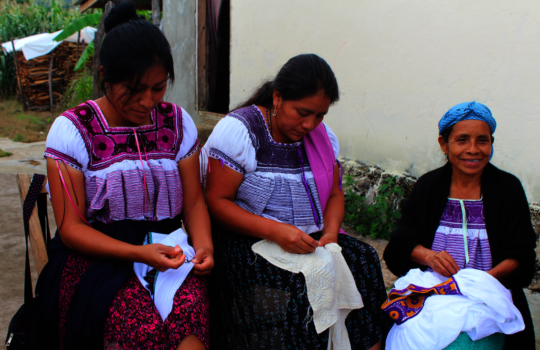 Joining efforts against artisanal textile plagiarism:
During the past months there was a disproportionate increase of the cases of plagiarism of the designs of the Mexican handmade indigenous textiles. Unfortunately in Mexico, there is no legal framework that explicitly regulates, stops or prohibits the copy of indigenous artistic representations. However the designs embodied in textiles represent the ancestral knowledge, culture, and cosmovision or worldview of the indigenous communities.
At NGO Impacto, in conjunction with the work we carried out in our "Viernes Tracional" campaign, which seeks to promote knowledge, appreciation, use and consumption of garments made by Mexican artisans, we document and make public the cases that big brands copied textiles designs that belong to indigenous communities, without giving them credit or economic compensation.
The last case in which we got focused was the one in wich Zara brand, (part of Inditex Group), incorporated into the market a garment copying the traditional embroidery elaborated by the artisans of the community of Aguacatenango, Chiapas.
Through alliances with national and international media, we are making public this situation that is affecting not only the artisans from Chiapas, but from all over the country. And we are joying efforts trying to aware people about the importance of conscious and responsible consumption.
In addition, we are promoting public advocacy to seek changes in the Mexican legal framework so that indigenous artisans can adequately protect their cultural heritage.
Ethical collaborations, a case of success :
At the opposite side of brands that do not care about ethical relationship, there are also projects and designers who wish to collaborate with the artisans in a respectful and participative way.
Luis Oliver is a fashion designer designer from Mexico City, with whom Impacto provided a special workshop to the artisans of the Aldama community. This workshop consisted of generating a space of creativity, artisans and artisans together, to develop pieces of textile jewelry. Aldama, is an indigenous community known for the beauty of its textiles. The designs captured in their embroideries are loaded with iconographies and symbolisms that represent not only their cultural heritage, but also relate their way of seeing, feeling and being in the world.
One of the objectives of the workshop was to generate a correspondence between contemporary and traditional techniques. This experimental collaboration stimulated a creative exercise among artisans, artisans and designers. The exchange of knowledge was one of the main results of this shared experience.
At the same time that the artisans developed new products, they also developed skills that will allow them to reach new markets, and open up more opportunities for their economic and self-development.
In Impacto we will continuing promoting the respect of indigeous people rights. We are convinced that a better society is established through shared effort and ethical and honest relationships. We want to thank you for your generosity that allow us to keep working on a daily basis in benefit of indigenous artisans and their communities.