One early July morning in the Peruvian community of Chupani, three community health workers, Margarita, Ana Cecilia, and Beatriz, meet at a clearing by their neighbors' houses. They untie colorful mantas from their backs and spread the fabrics carefully on the ground. Inside are binders that are filled with health protocols focusing on a variety of health topics, from indoor smoke pollution to nutrition. Today, Margarita will be teaching her community about the importance of hand washing while Ana Cecilia and Beatriz observe.
Margarita, Ana Cecilia, and Beatriz all serve as community health workers, or promotoras, in their respective communities. However, Ana Cecilia and Beatriz have also spent the last few months learning to be docentes or "trainers of trainers". As docentes, their job is to help train new promotoras, such as Margarita. Together, Ana Cecilia and Beatriz teach Margarita health protocols and serve as her mentors. When Margarita gives health presentations to her community or visits community members, Ana Cecilia and Beatriz are with her to help her prepare and provide feedback in order to continue to build Margarita's knowledge and self-confidence.
"I'm happy to be a promotora," Margarita says. "I'm only going to continue to get better, especially through trainings. Ana Cecilia and Beatriz have helped me learn so much, and I've found that I learn better with them. If I ever have a question, I can always ask."
Once Margarita's promotora training via the docentes is complete, she will know how to use evidence-based protocols to address and treat dehydration. She will be able to educate mothers about nutrition that will prevent anemia in their children. If necessary, she will provide first aid care to patients, but will also decide when to send patients to the nearest clinic for more intensive care. Above all, she will be indispensible to a community that has never experienced the privilege of immediate health access. Margarita maintains that her educational opportunities have expanded because of her docente mentors and from external support. "As a promotora, I have learned what, before, was impossible to learn," she says.
The Docente Program is new to Sacred Valley Health. However, the past three months have proved successful. In contrast to its sister Promotora Program, the Docente Program strives to develop and tailor promotoras' leadership skills while simultaneously promoting a model of public health sustainability and social empowerment. Docentes attend monthly sessions called capacitaciones at the SVH office in Ollantaytambo. During these sessions, they review health protocols and receive feedback from professionally trained medical staff. Additionally, thanks to donor support, certified promotoras who are training to be docentes receive a monthly salary to perform their work, which provides economic support to their households. Donor contributions have also provided docentes with necessary learning materials, such as protocol binders and first aid kits, which assist them with teaching lessons to promotoras.
Within the last three months, women such as Ana Cecilia and Beatriz have learned how to effectively share their knowledge of health protocols, house visits, and basic first aid to future generations of promotoras, thus planting the seeds of Sacred Valley Health's sustainability goals. The docentes themselves have already seen a difference and feel that they are making a positive impact. Ana Cecilia summarizes it well: "As docentes, we have advanced what we have learned as promotoras. As a docente, I can teach what I've learned, and now, people in other communities don't have to travel so far. We have more responsibility, but we are more independent."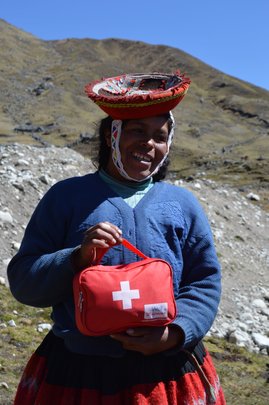 Links: