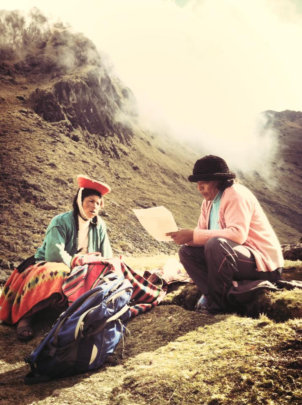 It's 6 am and the sun has just started to rise, the morning light bathing the valley peaks and ridges in a gentle yellow hue as the doors to the Sacred Valley Health office open. In walks Escolastica, dawning her Houston Astros baseball cap and a bright pink sweater under a warm down coat. Escolastica, who was born in the high Andean community of Pampallacta, had to rise before the sun to catch the combi to bring her down into Ollantaytambo.
Rubén will be arriving soon to drive a group from the Sacred Valley Health office up to the communities of Challuacoccha and Chupani for a vitamin distribution campaign.
It's a chilly day in the Sacred Valley of Peru, and the team has plenty of blankets packed. Alli anchu, Esco says to Rubén, good morning, in the native language of Quechua. Having grown up speaking Quechua with her mother, and starting to learn Spanish at the age of ten, she is now fluent in both. The group piles in the back of Rubén's pick up truck, and starts the long drive up to Challuacoccha.
While driving up the windy dirt road, she turns to the SVH volunteers and explains that many of the Sacred Valley Health promotoras (community health workers) have told her how empowered they feel. How SVH has given women, who often don't have an education higher than primary school, an opportunity to be leaders in their communities.
Having been educated up to second grade, Esco easily relates to their stories. Her job prospects in this part of Peru were slim until one day in 2011 when SVH founder, Keri, knocked on her door and asked her if she would like to work as an entry-level promotora. This is where her journey with SVH began. After a year and a half of working as a promotora, she became a formal "helper" of the program. After that, she became a community coordinator, and Spanish to Quechua translator, until she was offered a full-time position as a Program Manager.
Now, Esco not only helps disseminate critical health information in her community, but she also helps run the SVH programs, teaching new generations of promotoras health education and leadership skills. She says she feels very proud to be a leader, to be somebody who is looked up to, and is of crucial assistance when someone in her community is sick or injured. In a part of the world where being financially independent as a woman is uncommon, Esco is grateful for the opportunities she has been afforded. She is happy to be in a position where she can use her experiences and knowledge to empower women from other Andean communities.
SVH is honored to be a part of her story.
For the latest SVH news and updates, be sure to follow us on social media!
http://facebook.com/SacredValleyHealth
https://www.instagram.com/sacredvalleyhealth/
http://twitter.com/SacredValHealth
And subscribe to our mailing list here!