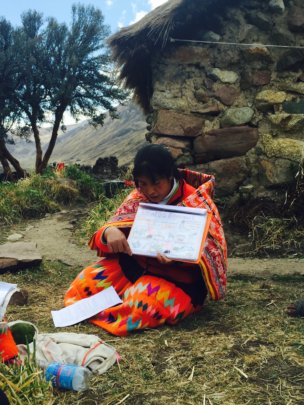 Throughout her life, Teresa has always helped others. She lives in Huilloc, a large indigenous community located in the Sacred Valley of Peru. Despite her community's size, Teresa stands out as one of its leaders. Whenever asked, she always steps up to a task. Her duties include weaving for a local cooperative and helping manage the government-run daycare, Kunamas. She also cooks for her relatives who work on the family farm or chakra. On top of it all, Teresa takes care of her three children and has a fourth on the way. While she has swiftly maneuvered the daily bustle, Teresa always knew that she wanted something more for herself: an education.
"I only went to school until the sixth grade. But I still wanted to learn," she says. "There was just never time."
In 2012, Teresa found her opportunity. Huilloc elected her to act as one of Sacred Valley Health's official community health workers or promotoras de salud. Teresa has never looked back. By serving as a promotora, she not only helps her neighbors but has also expands her educational pursuits. Since joining Sacred Valley Health, Teresa has diligently attended all of the monthly training sessions and has eagerly participated in the learning exercises. As a result, she has learned important health topics that are culturally relevant to her community, such as childhood nutrition, environmental dangers, washing hands, and brushing teeth. One of the skills that she is especially happy to have learned is first aid, mainly because it has become a great necessity in her community.
"There was a gentleman, one of my neighbors, who was bitten by a llama on his farm." Teresa recalls. "He had a huge wound on his leg. It looked bad, and at first I wasn't sure what to do. But then, I remembered my lessons from Sacred Valley Health and did just what I was taught. I cleaned up the bite as best as I could with soap and then put on antibiotic cream. I wrapped it with a clean bandage and went with him to the nearest clinic so that the doctors there could attend to him."
At the clinic, the man received the proper advanced care, and over time, his wound healed. "He was very, very grateful to me." Teresa says. "In this moment, I felt proud. [Because I'm a promotora], things like this don't need to happen anymore. People come to me whenever they need me. I'm always aiding someone in need."
Teresa wanted to share her knowledge with others who may also be interested in health. This past January, she applied to Sacred Valley Health's Docente Program or "Train-the-Trainer Program" and was hired. As a docente, Teresa not only becomes an official employee of SVH, but also has the opportunity to develop even more advanced leadership and technical skills. She will be able to train other aspiring promotoras who may live in communities that are farther away and who, like her, also want to learn. She is eager to take on this new challenge.
"Being a docente means taking more responsibility. You take what you have and pass it on to others," she says. "But it also means that others will be able to learn what they never could before."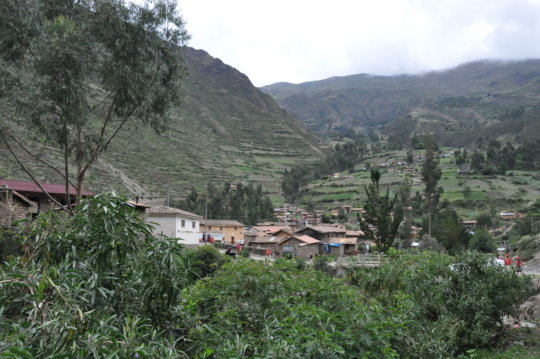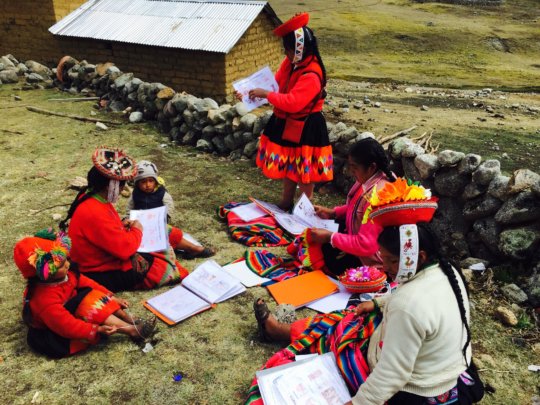 Links: