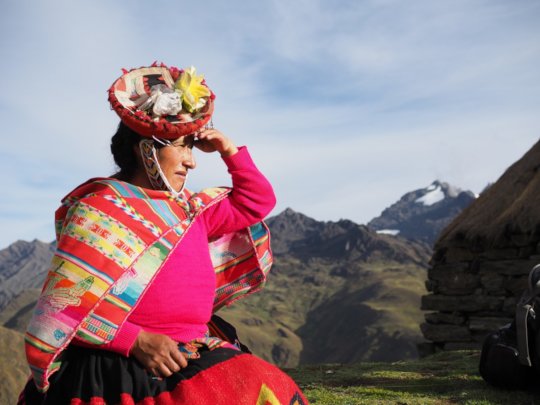 She's never been to school in her life. She doesn't know what year she was born and thus, doesn't know how old she is. For years, she never came down from the mountains in which she lived. She never learned Spanish, nor to read or write. She only speaks Quechua. She's been told by some of the men in her life that she shouldn't be learning about her body. Her name is Exaltación, and she is one of the 9 community health workers in Ayni Wasi/ Sacred Valley Health's Women's Health Program.
Having never been to school before, Exaltación has to work much harder to learn the curriculum material for the Women's Health Program than most of the other promotoras.
On top of that, there are people in her community of T'Astayoc who have told her that, because she is a woman, she shouldn't be a community health worker/educator, because it's "a man's job to teach the women, not the other way around." Even some women have told her this. But despite these challenges, she adamantly keeps working as hard as she can to learn the material, while also raising her children, and tending to her sheep and alpacas.
For Exaltación, the day starts at 4:30am, when the sky is still a dark shade of blue and the fog brushes around the jagged edges of the glacier "Wilka Weqe," also known as Veronica. Exaltación brings in the wood she chopped the night before for the fire which will heat the pots that will cook the soup and boil the potatoes. She'll then clean out the ash from last night's fire and dump it out outside. The home has no windows and no typical door but rather wood slats to place over the doorway that they use to keep the dogs out and the guinea pigs in, and to keep some of the warmth in. They've put no flooring over the earth, so inside the home, it's just an extension of the beauty that lies just out the front door.
"I almost quit the program," Exaltación tells Bertha in Quechua. "It was hard, especially considering the fact that I never went to school." She adds that Escolástica, the Ayni Wasi Program Director, encouraged her to stick with the program, even though it's a challenge.
In the Sacred Valley of the Incas, just 20 miles (32 km) southeast of world famous Machu Picchu, 39 women are fighting back against a patriarchal system. They are becoming leaders within their communities where they otherwise wouldn't be able to. At the same time, they are addressing a critical lack of basic health knowledge in their communities.
The majority of the people who live in these communities only speak Quechua, an indigenous language descendant from the Incas. Most people work as farmers or artisanal weavers. Access to quality healthcare is essentially unattainable. You can seldom find accurate knowledge of basic health care topics such as wound-care or how to prepare a well-balanced meal, for example.
As a result, more than three dozen women, many of whom stopped receiving a formal education in grade school, are itching to branch out of their narrowly defined roles as women. They want to keep learning in a formal setting. They want the opportunity to be leaders in their communities.