The first session of the Adolescent Girls Empowerment Initiative (AGEI) began with18 girls between the ages of 12-16 silently eating breakfast around a large table in the main training area of Ayni Wasi's office. Program staff attempted to break the ice, asking questions, hoping to make the girls feel welcome and more comfortable. New faces from other communities, adults circling the room, and conversations in two different languages is enough to make anyone feel a little intimidated, let alone someone in the difficult adolescent years. Luckily, instructors Sonia and Yajaida were well prepared to welcome the participants and start off the first session with an appropriate topic: Communication.
A four year age range in adolescence can equal a lifetime of experience. Knowing this, SVH staff decided to divide participants into two groups according to age: 12-13 years old, and 14-16 years old. This division of age groups increased participation, especially among the younger girls. Each training session consisted of customized illustrated resources on the day's topics, activities, and videos, followed by group discussions that were age appropriate. Sonia facilitated the older girls' group, addressing more advanced sexual and reproductive health topics like Sexually Transmitted Infections and Family Planning, while Yajaida worked with the younger group, tackling Healthy Friendships, Body Image, and Bullying. Sessions were held in the Ayni Wasi office every Saturday for 4 consecutive weeks. With each passing week, enthusiasm, interest and participation grew by leaps and bounds. The final session of the program culminates with a trip to Cusco to visit a university, a graduation ceremony and a sleep-over.
If retention is an indicator of success, then AGEI is a huge hit! SVH is proud to share a 100% retention rate of 18 girls completing all 5 trainings.
SVH looks forward to an exciting trip to Cusco with all of the girls, and a graduation ceremony to follow. Stay tuned!
Attachments:
A common reality in non-profit project implementation: timing is everything. Unfortunately, timing did not work in favor of the collaboration with Chimpay, the partner nonprofit in Ollantaytambo, Peru. Going back to the drawing board, Director of Programs, Escolástica, decided to ask Community Health Workers (CHWs) to gauge interest in the Adolescent Girls Empowerment Initiative program among young women in their communities.
Before long, Escolástica received a full roster of participants between the ages of 12-16. One of the best and most unexpected outcomes of SVH's Maternal and Child Health Advanced Certification Program (MCHACP) has been the amount of interest it has generated among community members, especially in the theme of family planning. Due to the increased family support in learning about women's health topics, CHWs were able to easily recruit participants to join the AGEI program.
With the participant roster set, SVH staff approached a younger CHW to fill the facilitator role. Sonia, a CHW specializing in women's health from the community of Patacancha, expressed interest in leading training sessions with the help of Quechua-speaking SVH staff member, Yajaida. Starting in September, 20 young women from the high altitude communities will join our facilitators on Saturdays for five half-day sessions over the course of 5 weeks to discuss themes of healthy relationships, changes in adolescence, and sexual and reproductive health. Currently, Sonia and Yajaida are in the process of finalizing the initial training session. They are excited to begin working with this group of dynamic young women, and look forward to creating an impactful experience!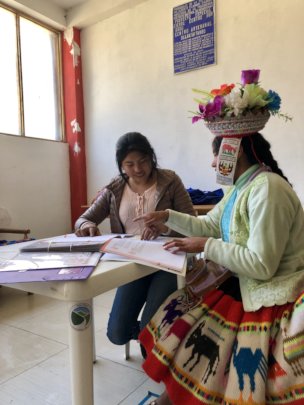 The Adolescent Girls Empowerment Initiative is in the final stages of program planning! The curriculum outline and facilitators' guides have been developed, using models from similar programs throughout Latin America. To monitor participants' progress as well as the impact of the program, close attention will be paid to the Women's Empowerment Index.
Additionally, SVH has established a partnership with a local Peruvian organization, Chimpay, working with students in the community of Patacancha. Through this partnership, the AGEI is building its relationship with the school administration and has established a target population of adolescent girls. A program evaluation tool will allow SVH to collaborate and share data with Chimpay on various overlapping themes, helping reinforce the objectives of the AGEI and tailor curricular resources to the needs of the girls in Patacancha. Program staff are looking forward to beginning sessions in later in 2019!
Links:
WARNING: Javascript is currently disabled or is not available in your browser. GlobalGiving makes extensive use of Javascript and will not function properly with Javascript disabled.
Please enable Javascript
and refresh this page.