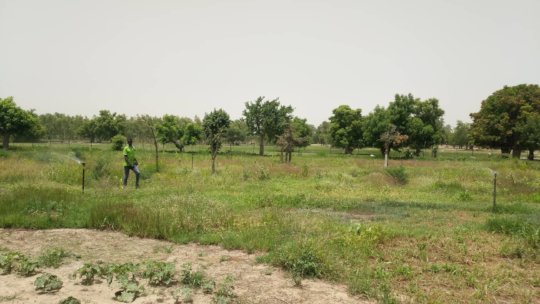 We grow vegetables in the dry season, and corn in the rainy season.
Last week, on July 8-9, 2019, Community Building Group team of the regional office (CBG-WA) based in Ouagadougou, Burkina Faso have visited the Women's Community Garden in the villages of Djomga and Kamsi. In general, the women reported that, with the current rainy season, they are growing mainly corn. But, according to them, after the rainy season, i.e. by the end of the coming month (August), they will start growing vegetable crops in the dry season.
CBG team have interviewed Elizabeth, who is a representative of the women group. "She said that for the past season, we were able to do three growing cycles, and this was dependent on the type of crops, as some crops have a long production cycle, and others like lettuce and hibiscus plants have short cycles. The varieties of lettuce we cultivate can take between 45 to 55 days. Which mean we can harvest the lettuce 45 days after planting. We have no worry about pumping water, as we use solar power energy to operate the irrigation farm. Since we got the solar power irrigation system, everything works well, the maintenance is easy, we only have to clean the solar panel to remove dust as needed. We start watering from 8: am when the sun starts rising until 3 to 4 pm. With the new soil moisture monitoring device that we received from Community Building Group, we do now irrigation based on the reading monitor of the level of soil moisture. They teach us how to read the soil mositure device. Our challenges are now to protect the irrigation farm with fence to prevent animals like cattle and goats coming in at night time. We encountered several damages in the past. But, even that we still have hope, and we are very blessed to have this irrigation system here, as well as the rainwater catchment basin. And without the basin, we can't even have water here for our life."
For Salio, a member of the women group said that they usually growth tomatoes, onion, and green pepper under irrigation, and this has been very helpful to our respective family. Before the basin, we have to go far away with our kids to get water. Now with the basin in the village, everyone feels happy. Before, our children couldn't even do anything at night time. Because in the day time, they need to help us fetching for water, that makes them very tired once we get back home, and with such burden, they don't frequently go to school, even think about it.
Community Building Group stays focus on addressing water and energy challenges in the Sahel Region. Your generous contribution can make a huge difference and improve life. Stay tuned, and more yet to come!
Thank you