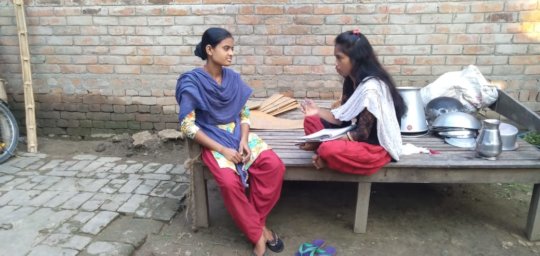 After joining Shadhika as a staff, I was able to visit three NGO partner sites in November to follow up with our scholars on their progress with their community leadership projects. I visited Vacha in Mumbai, Baale Mane in Bangalore and Jabala in Kolkata, Murshidabad and Birbhum. This is my journey from Shadhika scholar to Shadhika staff, every mile is beautiful for me and I have experienced a lot of learning from each visit.
When we met with the scholars, we could easily see their excitement related with their project. Shadhika implemented the community leadership project component of the scholarship program in June, 2019. All scholars were trained at the Leaders for Change Summit. All scholars selected topics as per their community needs; Girls Rights, Right to Education, Right to Mobility, Child Marriage, Health and Sanitation and Voting Rights. Yes, it seems very big topic for them, but they have decided to work on their issue and to make changes for themselves and for their community. At the summit, they prepared their plan, activity and their goals related with their topic.
During our site visits I have noticed one thing, that every scholar has started their project with a survey, which means they spent time finding out what the community knows and needs to know regarding their chosen topic. Every girl took survey in their respective community, and tabulated their results. Their second step was to do an activity and action plan in their community. A few scholars were doing their activity already and a few were ready to implement their action plan.
I see their sparkle, hard work and their passion related with their project. They said, "Yes, we are grateful that now we are completing our graduation and along with that, we are doing something for our community. Hopefully our little step towards awareness in community, school and college will make change in each person." From this project, they have started conversation with girls and women, from that day and that time, they all are empowering each other.