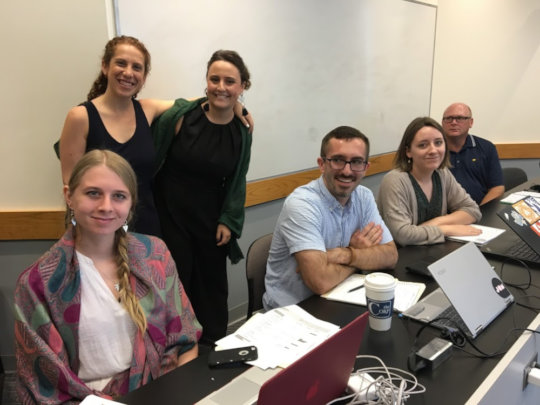 The Advocacy Project launched this appeal in early 2016 to help fund our fellowship program. In the three years since it has yielded $20,609 from 141 donations. A big thanks to you all!
This report will review lessons learned from this summer, when we deployed five Fellows to Nepal, Vietnam, Zimbabwe, Kenya and Uganda.
As you may know from previous reports, our mission is to help survivors of abuse or injustice in the Global South to launch innovative startups for social change. We do this by recruiting a graduate student to spend ten weeks with our partners and offer the kind of support that students do really well - crowdfunding, social media, and story-telling. After ten weeks of friendship and collaboration, we hope that the host organization will be stronger and better placed to take their startups to the next level.
Here's what our Fellows achieved this summer:
Uganda: Peace Fellow Spencer helped the Gulu Disabled Persons Union (GDPU) to install accessible toilets and hand-washing at the Abaka School, where the toilets had been so bad that the government planned to close the school. In the last four years GDPU has upgraded toilets at four schools in Gulu, with over 2,000 students. The money has come largely through GlobalGiving.
After this latest success, it is time to think of scaling the program. Our best hope lies in a formal partnership with the Gulu district government. We are also looking for Rotary clubs in the US that might work with the Gulu Rotary Club to support more GDPU toilet projects.
Zimbabwe: Peace Fellow McLane (Fletcher School) helped the Women Advocacy Project to confront child marriage by recruiting girl "ambassadors" to help girls who are threatened by marriage. McLane produced excellent blogs and photos; raised over $2,000; developed a plan to train girls in soap-making; and coordinated the making of 12 embroidered squares which depict child marriage.
The fruits of McLane's excellent work are now being seen. The squares are being assembled into an advocacy quilt which will be exhibited at a forthcoming UN summit on women's health in Nairobi (ICPD25). Constance, from WAP, will attend the conference and use her quilt to explain child marriage to an international audience. WAP has also launched soap training for 60 girls in Harare with the money raised by McLane.
Kenya: Ben (Fletcher School at Tuft) was the latest of several very talented Fellows to work at the Children Peace Initiative Kenya (CPIK). His main task was to help CPIK launch an ambitious new program of conflict resolution between the Turkana and Samburu tribes in northwest Kenya. Like his class-mate McLane from the Fetcher School, Ben also helped local artists to produce embrodered squares for a quilt that will be shown at the ICPD conference in Nairobi.
Since Ben's departure the northwest has been the scene of violent clashes that illustrate both the challenge and the importance of CPIK's work.
Vietnam: We asked Peace Fellow Mia to visit families that participate in our program for Agent Orange victims – a heart-breaking assignment. We have raised over $15,000 for eleven families since 2015 and Mia confirmed that our grants (raised through GlobalGiving) have been well used. Mia also produced a wealth of valuable household data which will help her host, the Association for the Empowerment of Persons with Disability (AEPD), to develop a new facility to reach more families.
Nepal: Boroka worked at the Centre for Agro-Ecology and Development (CAED) which campaigns against menstrual banishment (chhaupadi). The government passed a law against chhaupadi in 2018, but the law will be difficult to enforce. We had hoped that CAED would take advantage of Boroka's presence to explore innovative local approaches, but CAED was not interested. Sadly, Boroka's considerable talents were largely underutilized.
All of these fellowships have yielded valuable lessons. As we explained in a recent report to GlobalGiving, by raising $2,000 for WAP McLane was able to jumpstart soap training whch we hope will provide girls with an economic incentive to resist early marriage. By helping CPIK to produce professional reports for its German donor, Ben ensured that CPIK will likely attract further funding at a time when its work is more vital than ever.
Have Fellows really strengthened our partners? Absolutely, to judge from Uganda where Patrick (a survivor of polio) saw the Abaka project through to a successful conclusion after Spencer, his Peace Fellow, left prematurely. After working with five Fellows since 2015, Patrick is now a recognized expert on disability, WASH and education.
Even the disappointments must be seen in a larger context. We will invest heavily in Nepal again next year and draw on Boroka's insights into chhaupadi, but with a different partner.
While there is plenty to be proud of, we face some headwinds. For example, we face growing competition from larger, better-endowed university fellowship programs. We argue that our model does a better job of triggering social change, promoting diversity and providing students with unique first-hand experience on the front lines. But it does mean that we depend heavily on generous indviduals like yourself.
We will be hoping for renewed support on Giving Tuesday (November 27).
In gratitude
Iain and the AP team.