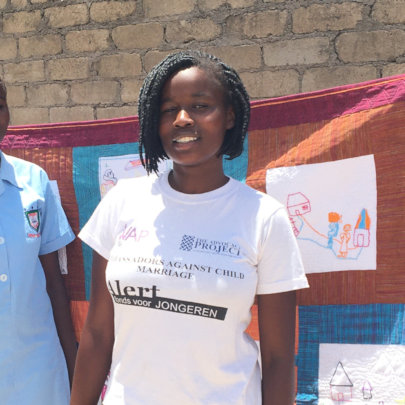 This report is being sent to friends who have generously supported the efforts of our partner in Zimbabwe, the Women Advocacy Project (WAP) to combat early marriage. We have launched three appeals for WAP on GlobalGiving since the summer of 2018 and raised $4,692 from 45 donors. In total, we have transferred $10,499.30 to WAP since the startup begun.
This report is, of course, coming to you at a very difficult time. But WAP's work is a reminder that communities and families are the first line of defense when a crisis strikes. Early marriage may lack the drama of COVID19 but it is certainly a slow-burning emergency for girls across Africa. One third of all girls in Zimbabwe are thought to marry before the legal age of 18.
With this in mind, we would like to introduce you to Evelyn, 21, a leader in WAP's campaign. Evelyn, seen in the top photo, is one of two girl "ambassadors" who have been selected by WAP to lead teams of girls in the under-served communities of Epworth and Chitungwiza, Harare.
WAP's hope is that the two ambassadors will work with their teams to educate girls about early marriage, identify girls who are vulnerable to marriage, and enable WAP to intervene.
WAP's second goal is to train girls to make and sell liquid soap and so relieve the economic pressure on their families to marry their daughters off to older, richer, men. After years of economic mismanagement and neglect, the pressure is brutal. Zimbabwe is in an economic freefall, and the value of the Zimbabwe bond against the dollar has fallen by 50% in the last six months. This falls most heavily on poor families.
But Evelyn also shows that there is enormous resiliency in these communities. We have told Evelyn's story in a recent video – The Soap-maker of Chitungwiza. Evelyn's parents earn between 1 and 2 dollars a day. Her two younger sisters often go to school hungry and there are holes in their shoes. But the family is loving and they can fall back on a tightly-knit community, in which neighbors share precious resources like water.
Evelyn herself handles it all with grace and humor, and never loses sight of her core message: "Even (as) girls we can be someone in life. You can be a lawyer, you can be a doctor, you can be anything you want in life rather than getting married while still under the age of 18."
Evelyn also uses the movie to describe WAP's soap startup, launched last summer with help from McLane, an AP Peace Fellow, and by donations from Rockflower and Action for World Solidarity in Berlin. By the time AP visited in November last year, the two teams had produced and sold over 900 bottles of their own brand of Clean Girl soap. While the soap only sells for a dollar a bottle, WAP reports that some girls are earning enough to contribute towards school fees.
As the movie shows, these productions are a source of entertainment and companionship for the girls and admiring parents. Clean Girl soap is "taking the girls away from child marriage and unnecessary bad things like rape, prostitution and drug abuse," according to Molene, a WAP program officer.
WAP has also used advocacy quilting to spread the word. In the summer of 2019 eleven girls, including Evelyn, told the story of child marriage through embroidered squares which were then brought back to the US by McLane and assembled into the Zimbabwe Child Marriage quilt in Rhode Island. Evelyn's disturbing square shows a 13-year old girl married to a much older man who already has three wives. His young wife is already pregnant. As Evelyn explains on camera, she has known of such cases in Chitungwiza.
In November 2019, WAP used the quilt to take its message to the international community when Constance joined AP's delegation to the UN summit on women and girls in Nairobi (ICPD25). Constance spent three busy days using the quilt to denounce child marriage to delegates and followed up by visiting the UN on her return to Zimbabwe.
WAP's work will no doubt be affected by COVID19, but the fight against poverty and injustice will go on. And in Zimbabwe, as elsewhere, it will be led by communities that are on the frontlines.
Thank you again for your generous support.
Iain, Constance and the teams from AP and WAP.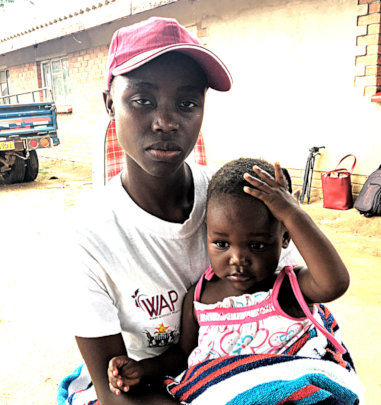 Links: