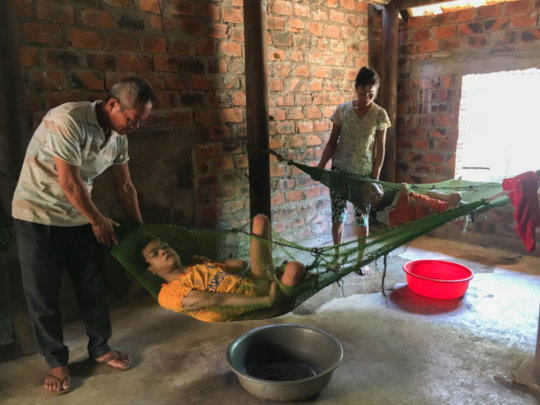 This report is being sent to friends who have donated through our appeals for families affected by Agent Orange in Vietnam. Over the past four years The Advocacy Project (AP) has raised almost $14,000 for eleven families including Mr Thin and his sons, seen in the photo above. Of the funds, $7,614 came through GlobalGiving from 112 generous donors like yourself. The remainder was raised privately by the family of Ai, who served as Peace Fellow in Vietnam in 2016.
Agent Orange was sprayed over former south Vietnam by American planes in the early years of the Vietnam war. The defoliant contained dioxin, which leached into the food chain with devastating consequences for American and Vietnamese service members.
Many Vietnamese soldiers who were exposed to Agent Orange served in the south and – by a process that is still not fully understood – passed the poison down to their wives and children. The symptoms began to appear in the mid-teens and have resulted in a range of crippling conditions. Quang Binh province alone has registered over 19,000 cases.
In 2014 we joined with our partner in Quang Binh, the Association for the Empowerment of Persons with Disabilities (AEPD), to survey the needs of 500 affected families. Based on the results, we decided to seek at least $1,000 for ten families that had been especially damaged. All but two families have used your donations to purchase a cow (photos).
We return every year to check up on beneficiaries and have recorded some remarkable stories of suffering and resistance, which can be found on these pages. One of our first beneficiaries, Loi, was forced to chain up three sons who were all suffering from dioxin poisoning to prevent them harming themselves and their neighbors. Duc built a successful business from fish sauce to support his three paralyzed daughters before a Korean factory polluted the sea and killed off the fish. Dung and his wife Miet had 13 children and all but one died in childbirth from Agent Orange. One of the saddest cases, for AP, was the death last year of Tuan, 23, a favorite of our Peace Fellows and staff.
But we also remember the friendships and wry humor. Mrs Loi named her cow "Opportunity," which seemed appropriate. But Mrs Do was stumped when it came to naming her cow and appealed to onlookers. They came up with a safe compromise - "Friendly Working Relations."
Our fundraising has been led by Peace Fellows. The lion's share of the money was raised by Ai, who left Vietnam as a child and returned to help as a Peace Fellow in 2016. Ai and her family have supported six Agent Orange families – a remarkable act of generosity. Jacob (2017) and Marcela (2018) also turned out to be excellent fundraisers and wrote profound blogs about a war that ended long before they were born.
In spite of these achievements, our focus on Agent Orange is not without controversy. We have been told that focusing on one condition risks discriminating against other forms of disability. Our reply has always been that other victims of serious medical conditions have their own champions – why not Agent Orange? Indeed, the US Congress has acknowledged the nature of Agent Orange by earmarking significant funds to clean up "hotspots" polluted by Agent Orange in Vietnam and paid millions to American service members who reported having been exposed during the war. Perhaps the most compelling response is that Agent Orange is uniquely awful in the way that it has targeted children who were not born at the time.
We at AP have a special reason for working with caregivers instead of the victims. The future of these families rests with the parents, particularly mothers, who are fighting a losing battle against their own old age and the relentless assault on their children. Quite simply, they dread the future.
But they have also made excellent use of your donations and turned their livestock into a sustained source of income. This will come as no surprise to those familiar with the work of the Grameen Bank or Kiva, but it has cheered us to see that Agent Orange families are not completely disempowered and dependent on handouts. Put succinctly, they have become credit-worthy.
This points to how AEPD can expand the program. Working from the assumption that caregivers will make good use of money, AEPD and AP hope to establish a revolving fund of around $5,000 that can make small loans to other affected families. Many questions will have to be answered: How large should the loans be? Will repayment put too much of a burden on mothers? How could other family-members (who have not been affected by Agent Orange) and neighbors help? Will beneficiaries form smaller groups and share the risk?
We are asking this year's Peace Fellow – Mia from the University of Maryland – to answer some of these questions by visiting the beneficiaries and collecting data. We will then work with AEPD and microfinance experts to design an appropriate mechanism and seek the initial capital. If the idea of a revolving fund succeeds, your donations will have helped to build a new and hopeful approach to a tragedy that is associated with death, disability and suffering. That would be something to be proud of.
Thank you from us all at AP!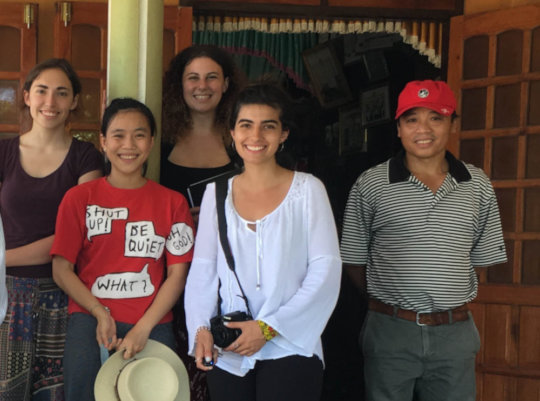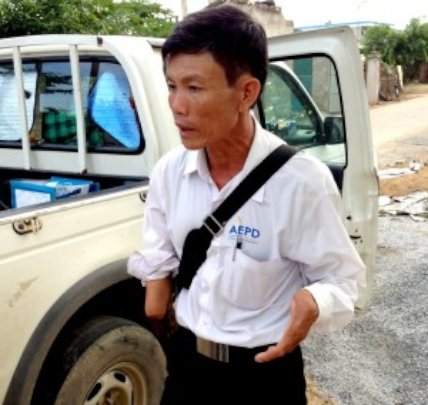 Links: