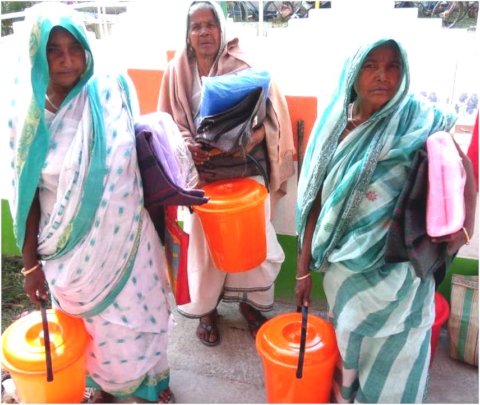 As reported in the last report on January, 2020 the people who are deeply impacted by the devastating very severe cyclone Bulbul at the coastal areas of South 24 Parganas district are now gradually restoring to normalcy.
Sabuj Sangha at its firm determination remained consistent in supporting the deeply impacted people through various trainings by groups of experts and expert agencies and support as far possible to help them re-build their opportunities for a normal healthy living and livelihood avenues. Thus a number of Farmers, Fishermen, Students, Lone widows all are being supported till they became self reliant and self sustained.
They are still being supported with essential commodities to fight out the chilling winter under broken roofs and mundane living. Thus they are still being provided with tarpaulins, blankets, buckets, food kits etc.
Those whose Ponds and Pisciculture are being fouled at the vast landfall of Bulbul cyclone on 9th November, 2019 and subsequent large tree trunks fall are gradually coming to a position to normal living and livelihood. They are being trained on cleaning the Pond Water, Restoring fast producing Pisciculture as well as training on utilising the Pond embankments for fast producing Cultivation Land, namely together can be called- Pond Based Integrated Farming (PBIF). Thus people who possessing Ponds and were involved in small scale Pisciculture are being benefitted.
One such a case story is narrated below:
Mr. Ruipada Maity* a resident of remote Banashyamnagar village under Patharpratima administrative block sustains his family through cultivation of Crops in the small piece of land and Fish at the adjacent Pond. His wife helps him in and out both at home and in cultivation. They have two sons- the elder one Tiklu* pursuing Graduation with Honors in History from Pathar Maha Vidyalaya. To support his own study related expenses he earns a few bucks through providing tuitions to the children in the vicinity.
Being a Farmer Mr. Maity* never witnessed such frightening and devastating night in his experience. The gale wind of severe cyclone Bulbul shattered the family at remises. In his own words, "I was completely alright in my little world of Cultivation & Pisciculture. I was nourishing my dreams to bring up my children slowly and with an aspiration of a brighter tomorrow. The 9th November night left us nowhere. It spoilt all my almost ripen crops – fowled the Pond water – leaving the cultivated fishes dead. I was thinking to shift to Delhi to look for a sustainable livelihood."
At reaching the village the Sabuj Sangha relief team first supported them with immediate relief materials like Tarpaulins, Blankets, Food Materials, Women's Dignity Kits etc. Later they kept on counseling him to restore to his own cultivations at his own village. They remained in consistent touch with him and people alike. With the collaborative efforts with the Sabuj Sangha team Mr. Maity* started purifying the Pond water with Lime & Bleaching which were provided. With support from expert agencies and personnel they were trained on scientific Pisciculture, Fish seedlings were also provided. He was also given training on Vermi- Compost generation- provided with saplings of Fruits which could be planted along the embankments of the Pond.
Thus now Mr. Maity* has restored back to his normal daily routine. In deep gratitude he says, "When I was thinking that all dreams were at end Sabuj Sangha brought me to my world again. The lessons that I acquired through the experience I will try to give it to my younger generations. I am so thankful to Sabuj Sangha."
* Names of all individuals are altered to maintain safety & privacy.
APPEAL
We appeal all friends, aquantances and those who really wish that the ill fated Bulbul cyclone affected coastal people come back to normalcy please share your hands in the very essential and urgent initiative.
Please join us in our efforts to stand by the people of Coastal Bulbul affected areas of West Bengal.