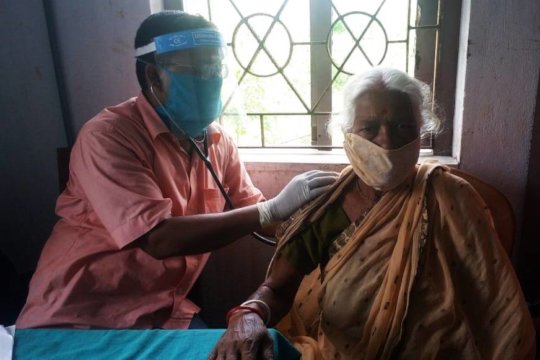 The robust health Team of 'Sabuj Sangha' continued reaching out the hard to reach communities in remote villages of vastly spread deep Sunderbans amidst Covid-19 outbreak and cyclone 'Amphan'.
The already ailing people who needed emergency medical support with devastating cyclone 'Amphan' amidst the consistent lock down for the fast spreading Covid-19 thus relived again with the hope to see a better tomorrow.
The marginalised people of Sunderbans still deprived of basic amenities like education, employment, health etc. and continued to live at the mercy of destiny are now gradually getting the essential health facilities. Services through their established Rural Health Centre at remote Nandakumarpur village namely 'Swarnalata Sabuj Seva Sadan' also continued along with the outreach camps organised in the deeper areas not only for the ailig people but also to reach out to tand by them at this extreme crisis hours. .
OPD clinics at 'Swarnalata Sabuj Seva Sadan' remained operational throughout and treatment including diagnostic services continued during March, April, May & June 2020. The trend of diseases which were observed during this period was common cough & cold, fever, eye related problem, gastroenteritis, hypertension, ache in bone joints, complications due to high sugar, respiratory trouble, abdominal pain, skin infection etc. Also as mentioned emergency care were also given. Altogether 1604 patients received health care facilities through OPD services during March- June'20 period.
Diagnostic cares provided in Mar'20- June'20:
- Pathology: 577,
- ECG: 55,
- USG: 250 and
- X-Ray: 92
Health care services through IPD
Through IPD general patients as well as patients through Govt. Health schemes were treated and institutional deliveries conducted. The number of persons provided health care in IPD through RHTC are as follows:
- IPD through Govt. Scheme: 9
- Others: 30
We are very glad to inform you that we could deliver altogether 5 babies through our IPD services at our Rural Health Centre during and immediately after Amphan cyclone.
Health services through Outreach Health Camp
Health check-ups & treatment facility with medicinal support & diagnostic care through outreach camps were provided to people, which benefitted people to a large extent. It has been noticed that; the people are gradually being conscious to take care of their health and as such, patient's flow increased. The type of diseases treated was same as mentioned under OPD services. During the period from March - June 2020 – 2052 patients were treated through outreach camps.
We apologise for the unintentional delay for the reports caused due to nationwide uneasy times for Covid-19 outbreak & also for the hit by cyclone on the deadly night of 20th May, 2020 when entire Sunderbans with vast areas of coastal West Bengal devastated with strong gale wind at around 200 Km/ hour speed.
Appeal
We are deeply indebted to all those who has been consistent in our mission to serve the ailed people of deeper Sunderbans.
We appeal to all other and can see our report right now, to please stand by us in our long but consistent effort of serving the ill-fated marginalised people of Sunderbans with our Health Services.