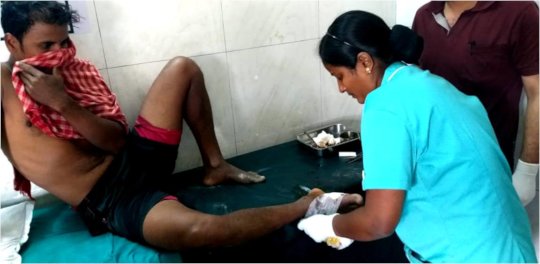 The robust health Team of 'Sabuj Sangha' continued reaching out the hard to reach communities in remote villages of vastly spread deep Sunderbans within South 24 Parganas district, West Bengal, India. Thus the ill rated people still deprived of basic amenities like education, employment, health etc. and continued to live at the mercy of destiny are now gradually getting the essential health facilities. Besides, services through their established Rural Health Centre at remote Nandakumarpur village namely 'Swarnalata Sabuj Seva Sadan' also continued where people from remotely located villages availing the health services.
Health care service through OPD at Rural Health Care Unit – 'Swarnalata Sabuj Seva Sadan'
OPD clinics at 'Swarnalata Sabuj Seva Sadan' remained operational and treatment including diagnostic services continued during February, 2020. The trend of diseases which were observed during February was common cough & cold, fever, eye related problem, gastroenteritis, hypertension, ache in bone joints, complications due to high sugar, respiratory trouble, abdominal pain, skin infection etc. During February, 2020 total 496 patients received health care facilities through OPD services.
Diagnostic cares provided:
- Pathology: 214,
- ECG: 28,
- USG: 55 and
- X-Ray: 44
Health care services through IPD
Through IPD general patients as well as patients through Govt. Health schemes were treated and institutional deliveries conducted. During February-2020, the number of persons provided health care in IPD through RHTC are as follows:
- IPD through Govt. Scheme: 1
- Others: 5
Health services through Outreach Health Camp
Health checkup & treatment facility with medicinal support & diagnostic care through outreach camps were provided to people, which benefitted people to a large extent. It has been noticed that; the people are gradually being conscious to take care of their health and as such, patient's flow increased. The type of diseases treated was same as mentioned under OPD services. During February, 2020 – 1002 patients were treated through outreach camps.
Case Story
"The Sabuj Sangha Community Health Worker of my village- Ms. Gouri* Mandal called me one day at the Adolescent Girls' Meeting at our own village. I attended the meeting – it has been an amazing experience- I never ever had before." Says 19 years old girl Tanima*Sen after attending the meeting on 5th December, 2019. She hails from Kamdebpur village in Achintyanagar Gram Panchayat under Patharpratima administrative block of South 24 Parganas district, West Bengal.
Gradually after the meeting, Tanima*'s weight, nutrition level (through Mid- Upper Arm Circumference- MUAC) and Haemoglobin status were measured. It was found that 19 Years old Tanima* weighs only 32 Kg. with 8.8 gm/dl Haemoglobin level. She expressed in surprise, "For the first time in my life I came to know about my body weight and nutrition level etc. I wondered to hear that I am malnourished."
The Sabuj Sangha Community Health Worker- Ms. Gouri Mandal* started visiting Tanima*and her other family members. They, thus, were educated on needs of Proper Nutrition and help identify sources of Nutrition available in nature. She also advised them on supplementary nutrition which were later provided to her from Sabuj Sangha. Thus, gradually they learnt about Malnourishment – its viscous impacts, the essentiality to improved Nutrition Level, Body Weight and Haemoglobin status for leading a healthy life.
Sabuj Sangha also trained and supported the family to create Nutrition Kitchen Garden at their homestead land with materials, seeds etc. Thus the family now has their own Nutrition Garden. Later, on measuring Tanima*'s haemoglobin level on 6th January and 29th February, 2020 it was found at 9.8gm /dl and 10.9gm/dl respectively. Her body weight was also increased by 2 Kgs.
Tanima* with a wide smile in deep gratitude says exuberantly, "The Nutrition Garden has widened our knowledge, understanding and has opened a new dimension of life to us. It is giving us fresh nutritious greens without the any chemical pesticides or fertilizers - encouraged us to stay healthy. We are deeply indebted to Sabuj Sangha. And will surely tell all others in my vicinity on our experience the need to remain healthy always."
* Names of all individuals altered to maintain safety and privacy
We are deeply moved by the generousity of the people supporting us in our mission for sharing hands to the most needed communities in deep Sunderbans. We hope that this support will remain contnued.
We appeal to all others to please join us in our mission and support us reaching the goals for a Healthy Sunderbans community.