The villages of Sundarban are situated in very remote areas. There is no good school in most of teh areas. Most of the inhabitants are illiterate and less-conscious about the education. The teaching quality of the government schools is not up to the mark and engaged in different types of work other than studies. As a result, teachers do not have much time in hand to teach. The students are neglected since not getting quality education.
Usasi Bag, a student of class III, has been reading in Sabuj Sangha's Upper Primary School i.e. in Kishalay Shishu Shiksha Niketan (KSSN) for last three years. She comes from the village namely Mahabatnagar, the extreme southern part of the Mathurapur II block. Her father is Nilkantha Bag, a primary school teacher. Her mother Ranjita is a house wife. She belongs to a family more economically and intellectually more strong than the other families since the parents are one of the very conscious guardians. They take great care of not only her education but all round development of her child. Having no good school in that area to fulfill their expectation, she has to make car journey to come to this school. During these three years in this school, she proved herself as a multitalented girl. She stands second in theprevious academic year. She is equally excellent in singing, dancing, drawing and sports. In fact Usasi Bag is a must participant in any school programme.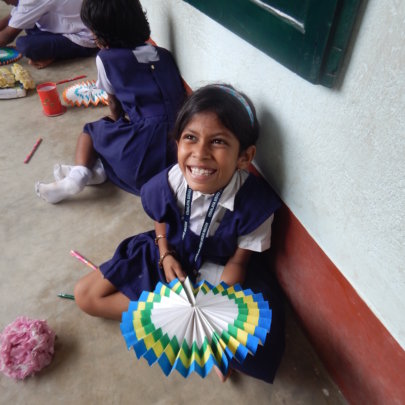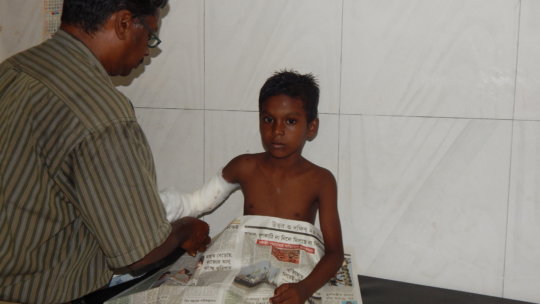 Sabuj Sangha's RHTC is situated in GP Nandakumarpur, South 24Parganas, West Bengal where underprivileged and downtrodden people from the Blocks of Patharpratima and Mathurapur II visit for the treatment and are advised accordingly by the expert general physicians, gynaecologists, optometrists, orthopaedics etc. Information about the OPD days, time and doctor's availability, system of service delivery etc. are circulated by the health workers and supervisors during home visits and public communication materials are also used for disseminating health messages in the communities. Patients attend RHTC for diagnosis and treatment of ailments as well as pregnant & lactating mother care. RHTC works as a wonder in peoples' life since they get such services 24 X 7 and therefore in emergencies too. Last year (April 2015 - March 2016), total number of 5269 patients received OPD service from RHTC, as per records.
Surojit, a 9 yrs old lad and son of Swapan, an inhabitant of Mahabatnagar of GP Nandakumarpur, belongs to asocio-economically marginalized family as his father is a daily labourer, for which there is unstable financial condition. He was brought to RHTC by the local health worker of Sabuj Sangha to avail the advice of specialised Orthopedic at OPD. His family was highly content to get a proper treatment for Surojit from a certified doctor against such a less registration fee. Surojit says, "I am feeling better now. Doctor advised me to visit again, to open the plaster after one month and take medicine on a regular basis."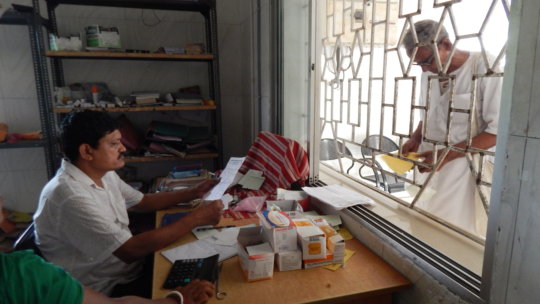 Most of the patients who receive healthcare facilities belong to the marginalised section of the society. Mainly the inhabitants belong to two blocks namely Patharpratima and Mahurapur II and do not have access to proper medical facilities as the areas they belong to are quite remote and isolated. Therefore, Sabuj Sangha's health care support facilities work as a wonder in their life.
Sabuj Sangha found that so many poor & elder persons are not receiving the proper support in the health. Hence, Sabuj Sangha has taken a small step to help them by providing medicinal support to them.
Dasharathi, 76 yrs old, an elderly person, is an inhabitant of Nandakumarpur of GP Nandakumarpur. He is elated to receive the medicinal support from Sabuj Sangha.
WARNING: Javascript is currently disabled or is not available in your browser. GlobalGiving makes extensive use of Javascript and will not function properly with Javascript disabled.
Please enable Javascript
and refresh this page.