Jhumur is a 23 years old woman lives in Herombogopalpur village, South 24 Parganas, West Bengal, India. She earns her livelihood by working as a day labour. Before SabujSangha's intervention, she was suffering from vomiting tendency, headaches during her pregnancy period and shown quacks but it was not reduced or cured.
Under such circumstances, the health worker of Sabuj Sangha visited her and found her to be not well and vomiting; she informed that she has shown to the quacks but the health worker explained that she must be showing to the specialized MBBS doctors at Sabuj Sangha's own Rural Hospital. Initially she was quite reluctant on the matter but then the health worker tried to convince her and said that if she does not like the services then she could refuse such treatment.
Presently, following the words of the health worker, she visited Hospital, shown the specialised doctor and received free medicines. According to her, the behaviour of doctors and nurses are very good in Sabuj Sangha and she got good quality services and finally a safe motherhood achieved through institutional delivery. From financial point of view, the services of free medicines have helped her a lot and looking at the affordability, she may not be able to receive proper health care services but the facilities of Sabuj Sangha has allowed her to do so.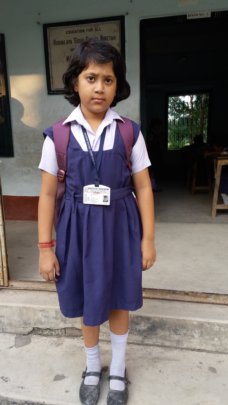 The villages of Sundarban are situated in very remote areas. There is no good school in most of the areas. Most of the inhabitants are illiterate and less-conscious about the education. Therefore, the students face the problem that a first generation learner faces. Most of the times, the children are engaged into household chores or income generation activities. In addition, the teaching quality of the existing schools is not up to the mark and teachers are engaged in different types of work other than studies. As a result, they do not have much time in hand to teach. The students are neglected since not getting quality education.
Ayanika studies in class III in our Model School i.e. Kisalay Sishu Siksha Niketan (KSSN). Her Parents are Parthasarathi who is a quack doctor in the village and Rina who is a medical representative. She comes to school on by school car. She lives in Kailashpur, Raidighi, which is 6 km far from the school.
Right from the start, Ayanika was an average student. Her parents are busy with their own business and there is no one to take care her studies at home. She was admitted in this school four years ago with the expectation of better education. Because the villages are situated in remote areas of Sundarban, there is no good school. Most of the villagers are illiterate and less-conscious about the education. The quality of the existing government schools teaching is not standard. Teachers are busy with different types of work of the school. The teachers do not have much time in hand to teach. The students are neglected. The students are not getting the lessons and quality education.
The situation has improved to a great extent as the child got special attention and care from the teachers. She stands first in her class with excellent marks of 96 percent. She is a motivated child. She has growing interest in mathematics and science. Not that well in sports, but she is a talented dancer. She is equally good in drawing and her drawings regularly appear in school wall magazine. Due to regular health-check-up, she is physically healthy. She is a sparkling child, shaping her future.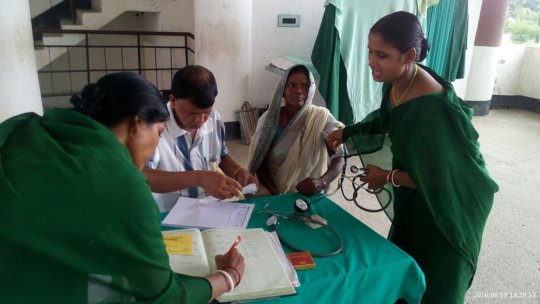 Sabuj Sangha is striving for the Community Health in Sundarbans at its working area and that are four Gram Panchayats i.e. Nandakumarpur, Lakshmijanardanpur, Herombogopalpur and Achintyanagar under the two Blocks Mathurapur-II and Patharpratima of South 24 Parganas District of West-Bengal. The areas are quite isolated and detached from mainland by rivers. The people of this area belong to the marginalized section and are underprivileged. The government and private health facilities are situated in the mainland and these isolated islands have the poor accessibility of those health facilities. The health care support facilities of Sabuj Sangha are the hope of the underprivileged. They get the health care facilities at Out-reach Centre (ORC) of Herombogopalpur GP for the island areas. During April'16 to August'16 2507 underprivileged got the doctor's consultation through Mobile Medical Services in the remote isolated areas.
Chhabi, a 49 yrs old widow resident of Kuemuri of Herombogopalpur Gram Panchyat. She has two sons; they are not taking care of her and live separately far from her house. She is all alone at her home. Her only source of income is the widow pension provided by government. She has got the joint pains and back ache. She visited the local quack doctor but she never relies upon him. She said, "I have no one to look after, I am all alone. My source of income is only the widow pension. I had severe back ache and joint pains. I had a consultation with the quack but had no results. I heard about the mobile medical service of Sabuj Sangha from the Health Worker of that organisation. I found a ray of hope that at last I am going to have a consultation of a specialised orthopaedic doctor. I did visit the doctor and now I can sleep soundless. I am very much satisfied with the service of Sabuj Sangha and still visit the Mobile Medical Camps at Herombogopalpur and Kuemuri."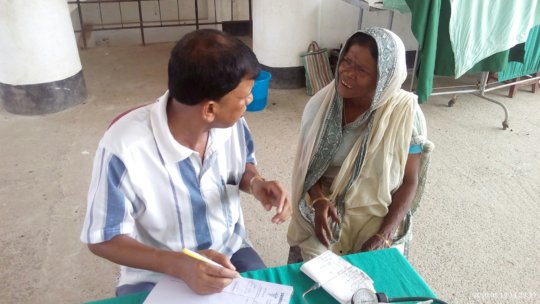 WARNING: Javascript is currently disabled or is not available in your browser. GlobalGiving makes extensive use of Javascript and will not function properly with Javascript disabled.
Please enable Javascript
and refresh this page.