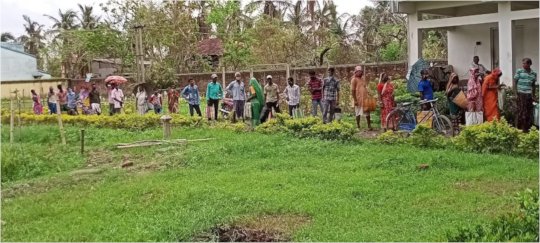 It has been long since we reached you after devastating impacts of Super Cyclone Amphan that hit vastly spread Coastal & Riverine Areas of Sunderbans in South 24 Parganas district of West Bengal, India on scary day of 20th May, 2020.
Along with many other communities here we too are still recovering gradually from the devastations that made our lives & livelihoods at stake. At first stance we, being a grass civil society organisation, rushed standing by the severely impacted marginalised communities with immediate relief supports like Shelter Materials (Tarpaulins & Ropes), Dry Food Materials (Beaten Rice (Chira), Biscuits, Milk Powder, Rice Flakes (Muri) etc., Cooked Food through setting Community Kitchens, Immediate Medical Support by reaching out with Qualified Doctors and Robust Medical Team, Medicines, Contamination Preventive Hygiene Materials, Temporary Toilets to maintain the dignity & privacy of impacted individuals etc.
Thus we reached out to more than 10,000 population spread in four most severely impacted blocks – Sagar, Namkhana, Patharpratima & Mathurapur II. Yet these areas need much more support. Hence we decided to go for Livelihood Restoration & Rehabilitation Programmes.
We already started activities on rehabilitation through continued support to help the affected communities build back their lives through-
- Restoration of village level local economy by creating workdays
- Livelihood activities (Next crop planning, support for Treatment & Improvement of Fisheries/ Pond Based Integrated farming, regeneration of Livestock (Goatery, Poultry etc.) in terms of skill & capacity building and material, Restoration of betel vine)
- Rehabilitation Support to restrain drop outs and continuing Educational
- Medical Camps for Senior Citizens, Pregnant Women, Children and other ailing people
- Supporting the community/children who are deeply affected by the trauma created with the disaster the Psycho- Social Support Workshop etc.
- Creating Disaster Risk Reduction (DRR) preparedness by creating resilient groups among communities
- Installation of Tube wells for fresh and safe potable water and many more.
Yet we need much more support from you to reach the most severely impacted people here.
Appeal

We appeal everybody to please stand by us in our endeavour to support the ill-fated community became prey to Cyclone Amphan to get restore to lives again.

Please open your hearts and stand by these people who are still struggling to restore back to normal level of lives & Livelihoods.