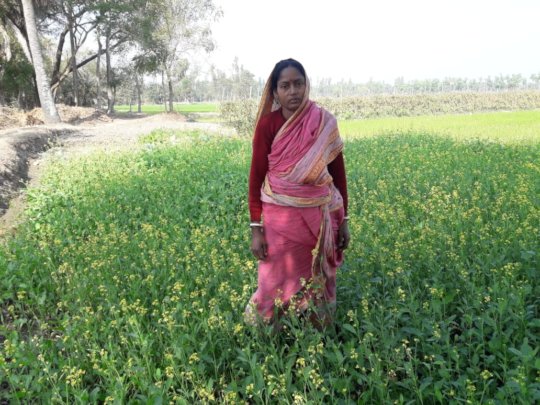 Nature's whims and Destiny decided overnight- Such has been a routine for species irrespective of Flora & Fauna in Sunderbans since the times yore. Human civilizations are also no exception. Entire greater Sunderbans including remote and vulnerable coastal and riverine corners got devastated/ impacted severely with around 200 Km/ hour gale wind of tyrant cyclone 'Amphan'.
It has been long since we were in communications – We remained busy in our efforts to restore back the lives and livelihood of the impacted people who were slapped once again by the double impacts misfortune of severe cyclone 'Amphan' amidst still continuing Pandemic 'Covid-19'.
Crisis of sudden halt in livelihood options, most of which are agri-based, contributed to the social maladies and severe consequences
- Unsafe migration to far and near cities in search of alternate livelihood resources;
- Human Trafficking in disguise of Domestic Help, child and adult , men and women;
- Drop outs in formal educations – schools and colleges;
- Increase in Child Labourer;
- Increase in child marriage and early motherhood, thereby Increase in Maternal Mortality Rate (MMR) and Infant Mortality Rate (IMR) and many more….
In the last report we already had communicated on our collective efforts to restore the impacted lives back to normalcy. Then after quite a long interval we are now coming back to share on our efforts and about the smiling faces that we witness along with time and our journey
Though hard and times taking, yet the collective efforts of impacted communities here, government administrations and we (Sabuj Sangha) with support from various organizations and some humane heart individuals gradually making the severely impacted communities self-reliant once again.
Thus the requirements of safe drinking water, safe and smooth internal and linking roads etc. are ensured by installing Tube-wells with raised platforms, cleaning and repairing damaged roads and other alike endeavours.
In order to restore ecological balance Mangroves are being planted and cared till grows up by the impacted communities through cash for works.
Efforts for restoring livelihood options in a faster and sustainable way - we initiated an integrated approach for utilizing available natural resources – the ponds, pond embankment lands, buffer area lands homestead small lands etc. all together with Fishing, cultivations of Local Nourishing Vegetables for Nutrition enhancement and also for earning, poultry at the pond side areas and alike more.
The conventional seeds and restoring the cultivations again - Paddy, Mustard, Beetle and many more.
Overwhelmed with the support rendered we are still awaiting for a stronger tomorrow to be built for the marginalized people became vulnerable to the damaging whims of nature.
Please continue standing by these misfortune people and in our efforts to turn them back with dignity and a broad confident smile once again!