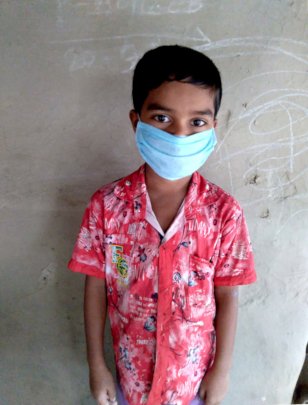 We are running the model school in deep Sunderbans - 'Kishalaya Sishu Siksha Niketan' since around a decade now.
This effort was initiated to arrest the widespread trends of being dropped out, early marriage and other such social malice in abundance which are pushing children from poor families in remote Sunderbans villages in becoming prey to those.
Thus majority of our students are from marginalized poor families who never dreamt of having education in a Model School-meant to afford quality education from little kids of marginalised poor families with joyous learning experience. We had initiated several extra-curricular activities along with the regular school curriculum to enrich the students' education in holistic manner we have classes for computers, gardening, practical lessons in field, knowing nature close with Herself and many more.
But all our efforts are facing extreme challenge with outbreak of Covid -19 Pandemic and closure of classes as per the Government Directives since end of March, 2020. All our school activities halted since then. Yet we continued keeping in touch with all our students through Home visits and E- Classes by creating WhatsApp.
Also the devastating cyclone 'Amphan', which made devastating landfall on 20th May, 2020 had impacted the livelihood resources of poor marginalised families' here- who sustain on daily wages and allied activities in Agriculture and Fish Trade (both catching & selling).
Majority students of the Model School hail from such vulnerable marginalised poor families. Today we are sharing the story of a Boy from such vulnerable family who are at deep uncertainty now.
Case Story
6 years old little Shankar*hasnever seen such uncanny that he is experiencing since the Pandemic Covid-19 outbreak. And the deadly Cyclone 'Amphan' that made devastating landfall with around 200 Km/hour speed on 20th May, 2020 kept him mum-shut.
Hailed from a very poor marginalised family Shankar* has been student of Model School run by Sabuj Sangha – 'Kishalaya Sishu Siksha Sadan' since he is a little kid. His father is a Daily Wage Labourer. Affording quality education that too in a Model School is almost impossible dream for him. Both he & his wife are in deep gratitude with tears of joy for having such a Model School for their child.
The model school is an attraction for Shankar* since very beginning, from where he stores all joy of friendship, performance (Dance, Song, Yoga etc.), playing various games, learning different subjects under close mentoring of caring Trainers & Teachers.
Since closure of the School, under lockdown directives for fast spreading Covid-19 pandemic, Shankar* is in deep morose. He is now missing his school ambience, energising learning activities and above all the friends.
Being daily wage labourer in Agricultural activities Shankar*'s father Mr. Rupankar* is almost without earning and sustain on others help now. The reliefs received from Sabuj Sangha and some great hearted individuals around, remained the means of sustenance for the family now. In such situation they had almost given up hopes for themselves neither for the studies of their only child.
Yet Shankar* with her young fresh mind still waits to see his school open and better times to come.
* Names of all individuals altered to maintain safety & privacy.
PLEDGE MADE
Since very beginning of Covid -19 Pandemic and also with devastating Amphan we from 'Sabuj Sangha' sup[port these famileis with immidiate relief as well as to restore to a normal dignified living. Thus we continued reaching out with kind hearted support from some philanthropists all the poor families of our enrolled students and also many more with Dry Rations, Shelter Materials etc. That helped those families at least for a few days.
But they need much more such support.
APPEAL
Please.... Help little vulnerable & poor children from riverine Sunderbans deeply impacted by both continuing Covid-19 pandemic and devastating Amphan
A little help from many can bring a Positive Change together- The helpless Families, the children all are waiting for such ray of hope.