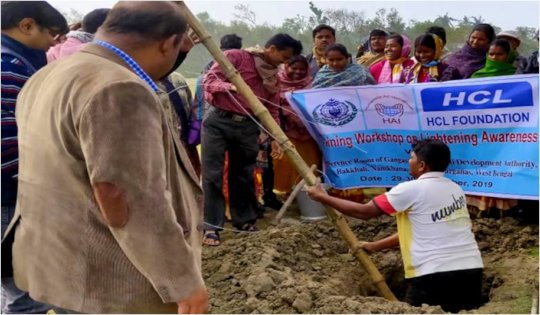 People are still struggling to get back to Normalcy after the very precarious 'Bulbul' cyclone that has impacted the vast coastal belts of South 24 Parganas of West Bengal overnight on the very Night of 9th November, 2019.
The areas those are located at the vicinity of urban approaches specifically to Kolkata Metropolitan City are gradually getting over there traumatizing experience. But those who are living closer to the coastal area and at remote corners with poor connectivity and bad road conditions are still struggling to get back to normalcy.
Basic requirements of Food Materials, Water, Health Supports, ICDS, Schools etc. were badly affected as most of the intuitional buildings got damaged either with broken roof or wall caused due to fall of trees. Electricity is not yet at its normal supply. The students, in general, are suffering due to the darkness with no illumination during nights.
The situations in Namkhana, Patharpratima and Mathurapur II administrative blocks are in most worse. Livelihoods of many people here are still at stake. Most of the people in the villages here sustain on Agriculture, Pisciculture or alike activities. As the cultivations are damaged at the time of harvest the cultivators are suffering through trauma and worried about their earnings.
As the surface water in the ponds also got polluted with dirts and filths due to the severe storm and fallen trees the faunal aqua species also got affected deeply.
In this situation Sabuj Sangha continued their relief, recovery and rehabilitation activities to stand by the deeply affected populace of the impacted areas in Namkhana, Patharpratima,
With consortium with other expert groups and National & International Support agencies the organisation also continued the counseling and planning works through various trainings & workshops among the affected communities.
Thus workshops on Lightning Resilience, Psycho-Social Care and alike initiatives are taken at coastal affected areas.
Besides Sabuj Sangha consistently supporting the affected communities with Materials like Kits for Food Matierials, Dignity Kits for Women, Shelter Materials etc.
Also taking the opprtunity of various public gatherings the Sabuj Sangha Disaster Response Team in collaboration with Govt. Departments are making consistent awareness campiagns for arresting rampoant usage of Plastics, Thermpols etc. which are additionally contrbuting to the hazards of sudden Natural Calamities.
As a Policy approach Sabuj Sangha is also creating an ambience of ownerships among the beneficiaries who by themselves can build their own resilience against any natural odds. But this is times taking.
We are greatly thankful to all those who have extended their support so promptly and also in touch with consistency.
We appeal to all our friends and supporters to join us in the Initiative that is required urgently to all such coastal affected communities in Sunderbans. Please come forward and join in our efforts for which we are struggling with all our limitations.